Nationals will take place Feb. 10-12.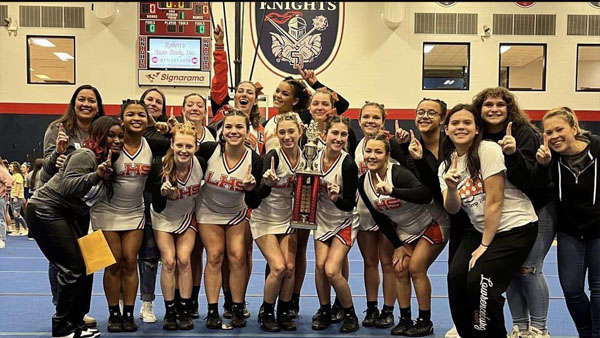 LHS Cheer following their Rivertown Classic Championship. Photo by LHS Cheer.
(Lawrenceburg, Ind.) – The Lawrenceburg High School cheerleading team will take a trip to the Sunshine State this weekend.
The exact destination is the City of Orlando, the site of the 2023 National High School Cheerleading Championship.
Lawrenceburg placed 4th at a regional event in October, earning a bid to Nationals for the first time in program history. Other qualifying requirements included:
75 percent of the qualifying team must have attended a two-day Varsity Spirit Summer Camp and participate in the Squad Credentialing program.
Compete and receive a bid at a 2022 UCA qualifying regional competition for the 2023 National High School Cheerleading Championship.
The division the team competes in at the regional will be the only division the team is allowed to compete in at the NHSCC. Exception – some divisions are further split further by Team Size or School Size at the NHSCC than they are at a qualifying regional competition.
Individuals may NOT represent more than one team at the National Championship. Exception – Junior Varsity members may perform with the Varsity in a Varsity Game Day Division.
To create a championship that gives equal opportunity for schools of similar composition, the varsity divisions at the NHSCC will be based on school enrollments as of October 1, 2021.
Lawrenceburg will compete in Small Varsity Division II.
Prelims will be held on Friday with Lawrenceburg scheduled to take the floor at 9:26 p.m. The finals will take place on Sunday.
Lawrenceburg's varsity cheer team consists of: Karli Ulmer, Clara Johnson, Tiffanie Morris, Kearney Kellems, Kaley Barnes, Rivers Burner, Courtney Sauntry, Mia Terrill, Ronni Watkins, Jada Kuhn, Alison Myers, Kensington Harrison, Alahna Beinkemper, Jenna Handorg, Gabby Tighe, Malena Foster, Mia Davis, and Kailynn Cooper.
They are coached by Nia Brightwell, Felicia Jarrell, Cheni Batchelor, and Mary Ann Tighe.
For more information, visit https://www.varsity.com/uca/school/competitions/high-school-nationals/.