The Junior Indiana All-Stars will play two games against the Junior Kentucky All-Stars this summer.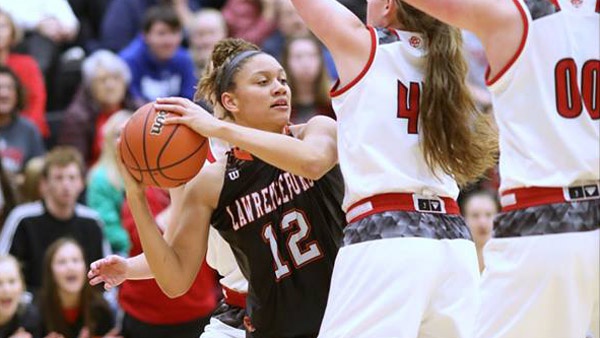 Lawrenceburg High School's Juliana Kemper. Photo by Jacki Clawson.
(Lawrenceburg, Ind.) – The Indiana Basketball Coaches Association has released the names of the top 24 junior high school girls players in the state.
The 24 girls will play for the IndyStar Indiana girls Junior All-Stars against the Kentucky Junior All-Stars this June. Two games will be played with one being played in Indiana, while the other game will take place in Kentucky.
The sites and times for the games have yet to be determined.
Among the all-star selections in Indiana is Lawrenceburg standout Juliana Kemper. The Tigers star averaged 18.8 points, 11.2 rebounds, 3.3 assists, and 2.8 steals per game this past season.
Kemper's efforts earned her the 2018-19 EIAC Girls Basketball Most Valuable Player. Juliana also received a proclamation from Lawrenceburg Mayor Kelly Mollaun, who announced February 8, 2019 as Juliana Kemper Day in the city.
The Junior All-Star team was determined by the 20-member Indiana Basketball Coaches Association all-state panel in conjunction with its selection of the IBCA/Subway Underclass All-State Team.
A full list of Junior All-Stars is listed below.
2019 IndyStar Girls Junior All-Stars
CORE GROUP
Name, Ht., Pos., PPG, High School
Kendall Bostic, 6-1, F, 18.7, Northwestern
Ella Collier, 6-0, G, 22.2, Danville
Nan Garcia, 6-0, F, 19.9, Jeffersonville
Madison Layden, 6-1, G, 21.9, Northwestern
Jasmine McWilliams, 5-11, G, 13.3, North Central
Sydney Parrish, 6-2, G/F, 21.0, Hamilton Southeastern
RED GROUP
Name, Ht., Pos., PPG, High School
Sydney Graber, 6-0, F, 10.1, Homestead
Sydney Jacobsen, 5-9, G, 18.9, Harrison (West Lafayette)
RaShaya Kyle, 6-6, C, 15.5, Marion
Alaina Omonode, 6-0, C, 17.9, West Lafayette
Keegan Sullivan, 6-0, G, 16.7, South Bend St. Joseph
Sydney Watkins, 5-8, G, 12.7, Heritage Christian
WHITE GROUP
Name, Ht., Pos., PPG, High School
Khera Goss, 5-11, G, 10.4, Ben Davis
Maddie Lawrence, 6-0, G, 16.5, Winchester
Lindsey Syrek, 6-2, F, 17.3, University
K'Ja Talley, 5-9, F, 11.9, Warren Central
Taylor Westgate, 6-1, F, 14.4, Oak Hill
Kristian Young, 5-5, G, 8.6, Lawrence North
BLUE GROUP
Name, Ht., Pos., PPG, High School
Darrian Carmean, 5-9, G, 15.4, Vincennes Lincoln
Maya Chandler, 5-9, G, 14.4, Triton Central
Juliana Kemper, 5-9, G, 18.8, Lawrenceburg
Rachel Loobie, 6-1, F, 20.3, Franklin Central
Tia Tolbert, 5-10, G, 13.1, Vincennes Rivet
Alana Vinson, 5-11, G, 15.9, Roncalli
Head coach: TBA
Assistant coaches: TBA