The Tigers program will receive $25,000 to purchase new premium helmets, courtesy of the Indianapolis Colts and UnitedHealthcare.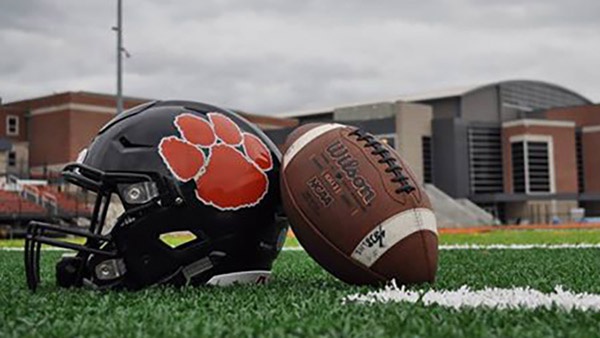 (Lawrenceburg, Ind.) – The Lawrenceburg High School football program received some pleasant news on Tuesday.
The Tigers were selected as the Grand Prize winner of the 2020-21 HELMETS giveaway sponsored by the Indianapolis Colts and UnitedHealthcare.
Football players at Lawrenceburg will soon enjoy $25,000 of new premium helmets.
Tigers head coach Ryan Knigga says the new helmets come to Lawrenceburg at the perfect time.
"What an unbelievable day for our Tiger football program and the Lawrenceburg Athletic Department," said Knigga. "Our current helmets reached their 10-year lifespan this year and must be retired. We are currently getting ready to purchase all new helmets for GMS and LHS and that was the plan before winning the $25,000."
Winning the prize is a big relief to the football program and the athletic department as a whole.
"This will allow our athletic department to focus on other needs without purchasing new helmets," Knigga added. "We are very excited and very thankful for this opportunity. We also need to thank the people who week in and week out submitted their name to the Colts for us. Kevin Mollaun was the lucky Lawrenceburg name drawn to get our name in the hat, but we know many more Tiger fans participated."
Coach Knigga also extended a huge thank you to the Indianapolis Colts and UnitedHealthcare.
As for the helmets themselves, Coach K thinks the Tigers will stick with their current black helmet paint scheme and the orange paw.
"That design has been very good to us," said Knigga.
Lawrenceburg is scheduled to open the 2021 season at home on Friday, August 20 against East Central.