The opening round draw of the 19th annual Rivertown Classic basketball tournament was held Wednesday.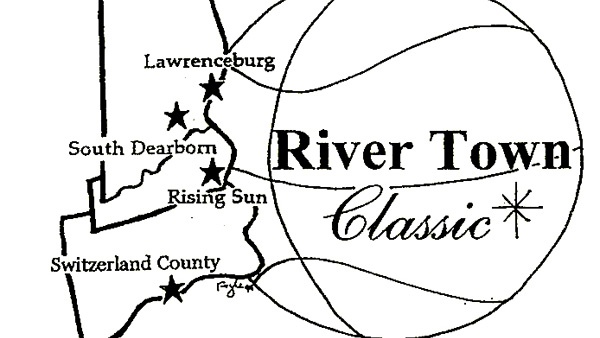 (Aurora, Ind.) – In the Rivertown Classic basketball tournament, every game is a rivalry game.
But now we know who will meet who in the opening games of the 19th annual tournament. South Dearborn, Lawrenceburg, Rising Sun and Switzerland County coaches and administrators met Wednesday for the organizational meeting and draw of the 2019 tournament.
The 19th annual Rivertown Classic at South Dearborn will start with the same matchups in the boys and girls tournaments. South Dearborn will play Switzerland County in Game 1. Rising Sun will take on Lawrenceburg in Game 2.
Every game of the varsity 2019 Rivertown Classic will be heard on Eagle Country 99.3 and www.eaglecountryonline.com. All varsity games will be held at South Dearborn High School.
The girls first round doubleheader of games will be held Wednesday, January 2 starting at 6:00 p.m. The consolation game of the girls teams will happen Friday, January 4 starting at 6:00, followed by the girls championship at approximately 8:00.
The boys will begin their tournament on Thursday, January 3 at 6:00 p.m. Those defeated in the first round will play in the consolation game on Saturday, January 5 at 6:00. The boys title game will begin around 8:00.
The Rivertown Classic Cheerleading Competition will take place between the boys consolation and championship on Saturday.
The Lawrenceburg Tigers boys and girls will each be looking to defend their Rivertown Classic championships in last season's tournament. The Lawrenceburg boys have won four consecutive Rivertown titles, while the Lady Tigers have claimed two straight.