Schoenefeld won gold at the 2022 Beijing Olympics in mixed team aerials.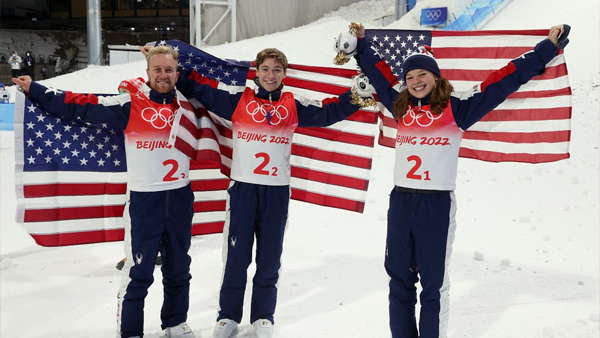 Justin Schoenefeld, Chris Lillis and Ashley Caldwell. Photo provided.
(Lawrenceburg, Ind.) – Lawrenceburg native and Olympic Gold Medalist Justin Schoenefeld will be honored at the Alf Engen Ski Museum in Utah.
Schoenefeld made his Olympic debut at the 2022 Beijing Winter Olympics, where he, Ashley Caldwell, and Chris Lillis would go to win gold in the inaugural mixed team aerial event.
The trio was brought together in Park City, which happens to be where the Alf Engen Ski Museum is located inside Utah Olympic Park.
Schoenefeld is one of six Park City athletes that will be featured in an exhibit at the museum.
The 2022 Beijing Hometown Heroes exhibit will be featured at the Alf Engen Ski Museum until 2026.
To learn more, visit www.engenmuseum.org.