Ledford is currently second in scoring and rebounding in the ORVC.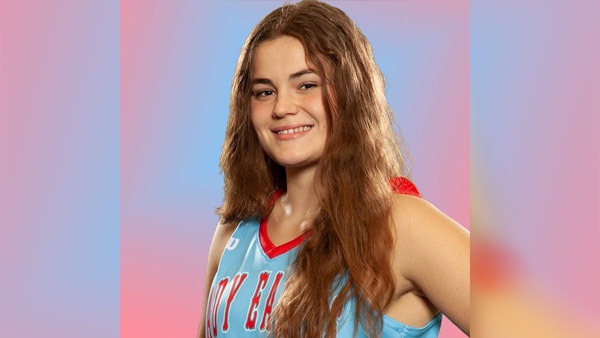 Paige Ledford. Photo via JCD Sports (@JCDSports)
(Osgood, Ind.) – Jac-Cen-Del Lady Eagles basketball star Paige Ledford has earned weekly honors from the Ohio River Valley Conference.
The ORVC report for the week of December 2-7 was released Tuesday.
Paige Ledford, the ORVC Girls Basketball Player of the Week, averaged 22 points, 14.5 rebounds and 2.5 assists in wins over Hauser and South Dearborn.
Ledford went 19-25 from the free throw line against South Dearborn, breaking Jac-Cen-Del records against South Dearborn for most free throw attempts and most free throw makes. The previous records were both set by Mariah Day.
To date, Ledford is second in the conference in scoring (15.5 ppg) and rebounding (10.0 rpg).
The ORVC Boys Basketball Player of the Week is Austin Kramer. The Southwestern star totaled 29 points, 16 assists, 12 steals and nine rebounds in two games.
Other top performers for the week of December 2-7 are listed below.
GIRLS BASKETBALL
Aleiah Thomas (SC) 23 pts, 6 rebs, 4 stl, 3 ast vs. Milan
Annabelle Williams (JCD) 22 pts, 7 rebs, 6 ast, 4 stl, 3 3's in 2 games
Jessie Duvall (SC) 8 ppg, 10 rebs, 5 ast, 3 stl in 2 games
Anna Hubbard (JCD) 16 pts, 8 rebs, 3 blk, 2 stl vs. Hauser
Jaden Harrell (SC) 8 ppg, 9 rebs, 4 ast, 4 stl in 2 games
Lindsey Meyer (SR) 17 pts, 20 rebs, 6 ast, 4 stl in 2 games
Baylee Morris (RS) 31 pts, 11 rebs, 8 stl, 5 ast in 2 games
Cierra Copeland (SR) 25 pts, 12 rebs, 7 defl in 2 games
Maddi Wilson (RS) 29 pts, 8 rebs, 3 ast, 2 stl in 2 games
Gracie Gunter (SR) 21 pts, 11 rebs, 8 defl, 6 ast in 2 games
Bella Marcum (SW) 17 pts, 5 rebs, 3 stl, blk vs. Shawe
BOYS BASKETBALL
Damien Breeck (SC) 34 pts, 13 rebs in 2 games
Ethan Stuart (SM) 30 pts, 6 rebs in 2 games
Zach Weaver (SC) 21 pts, 19 rebs in 2 games
Henry Grote (SM) 21 pts, 3 rebs, 3 ast in 2 games
Coby Chase (SC) 23 pts, 6 rebs in 2 games
Cody Samples (SR) 21 pts, 4 rebs, 4 stl, ast vs. No. Decatur
Aaron Griewe (SR) 10 pts, reb, ast, stl vs. No. Decatur
Billy Eccles (SW) 33 pts, 6 rebs, 4 ast, 4 stl, 4 3's in 2 games
Jaden Peetz (SR) 9 pts, 2 rebs, 2 stl vs. No. Decatur
Foster Mefford (SW) 23 pts, 18 ast, 13 rebs, 7 stl in 2 games