The talented H2O team includes kids from Sunman and Batesville.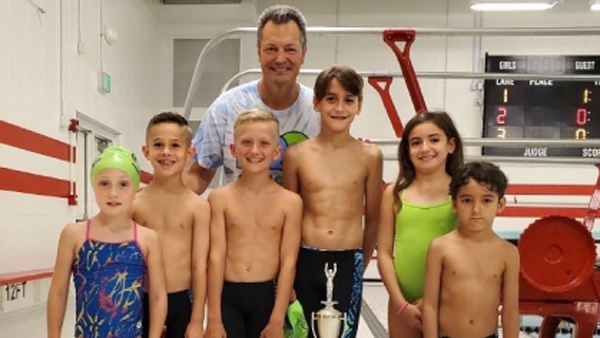 Hadlee King, Madden Owens, Nash King, Santiago Schutte, Alejandra Schutte, Salvador Schutte and head coach John Schutte with the SEISA trophy. Photo provided.
(Madison, Ind.) - The H2O (Hoosier Hill Otters) Madison, Indiana Swim Team won the 2019 SEISA Conference Championship for the third year in a row.
The 43rd Annual Southeastern Indiana Swimming Association (SEISA) Conference Championship was held on Saturday, June 29 at Madison Jr. High School Natatorium consisting of seven teams. The final scores were as follows: H2O 2829, Greensburg 1432, Batesville 1270, Milan 1041, Switzerland County 604, Hidden Valley 500 and Jennings County 322.

The championship meet is a day-long event where swimmers compete in two separate sessions. The morning session was for swimmers ages 5-10 and ages 11-18 swam in the afternoon session. Athletes who finished in 1st through 12th place earned points for their team.

H2O was well represented by 6 local swimmers: Santiago, 11, Alejandra, 9, and Salvador, 6, Schutte, each from Sunman; Nash, 10, and Hadlee, 7, King, both of Batesville; and Madden Owens, 10, of Batesville. They are coached by Batesville native John Schutte.

Santiago (4th summer swimming with H2O) 2nd 50 breast-36.29 (State Cut) 5th 50 fly-33.58 (Divisional Cut) 1st 100 free-1:01.71 (Divisional Cut) 2nd 100 IM-1:13.43.

Alejandra (4th summer swimming with H2O) 6th 50 free-36.27 (Divisional Cut) 3rd 50 breast-48.11 (Divisional Cut) 9th 50 fly-51.44 7th 100 IM-1:36.49 Hadlee (1st summer swimming with H2O) 11th 25 breast-40.04 6th 25 back-26.06 9th 25 fly-37.27 6th 100 IM-2:43.21 Madden (1st summer swimming with H2O) 4th 50 breast-49.98 (Divisional Cut) 5th 50 fly-58.32 5th 100 IM-1:48.80.

Salvador only had one event, the 25 freestyle.

Not only did he place 1st in all his events, Nash King set Individual SEISA Records: 10 & U Boys: 50 Breaststroke – 37.95 (38.54 old record held by Bradley Fortuna, Jennings County, 2001).
10 & U Boys: 50 Butterfly – 30.49 (31.89 old record held by Dean Fox, South Dearborn, 1993) 10 & U Boys: 100 Freestyle –1:05.38 (1:07.37 old record held by Bill McKeand, Jennings County, 1995) 10 & U Boys: 100 Individual Medley – 1:14.59 (1:17.49 old record held by Bradley Fortuna, Jennings County, 2001)
"Don't take yourself too seriously…always have fun and project that fun into your training. Those words describe Santiago Schutte to a "T". Santiago continues to improve his overall performance and he does it with enthusiasm and team spirit."
"Passion is often what drives a strong work ethic, and this is exhibited through determination, drive, and mental toughness. Nash King shows up for every practice determined to make himself better. He sets high goals and works hard to achieve those goals."
"The common thread in TEAM effort is doing it together, supporting each other and giving your best to create a positive work environment. Alejandra Schutte brings the team together. She works hard to develop her technique and speed but more importantly, she is compassionate about her teammates."
"Success is always going to be different for each individual. Hadlee King is working very hard to improve her technique. It is a huge accomplishment for a swimmer at the age of seven capable to swim every stroke."
"My personal goal for each athlete is helping them achieve swimming success through Technique, Intensity, and Growth. Madden Owens was determined to get a Divisional Cut this season. He found the breaststroke to be his favorite stroke to swim and perfected his technique to achieve his goal."
"We can't forget about our youngest member of the team, Salvador Schutte. We have Salvador focused on performance, not results. Getting across the pool this year was a huge accomplishment! The team is inspired by his effort at practice and his desire to keep up with the rest of the Schutte family," said John.

Not only did H2O come out as champions, they went undefeated this swim season with a 5-0 record. The swim meet against Batesville was canceled due to rain.
"It was a great summer for the Otters and our coaches couldn't be more pleased with the performance of the ENTIRE H2O TEAM," shares head coach Schutte. "All their hard work paid off!!! We are so very proud of every swimmer's determination to improve individually and work together to win as a team!"