Lots of local athletes got their physical examinations completed thanks to doctors at Highpoint Health and Beacon Orthopaedics & Sports Medicine.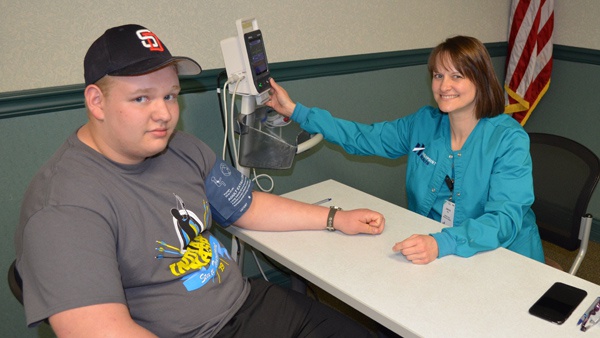 Moores Hill resident Jackson Chipman, 13, prepares for his blood pressure to be taken by Jayna Howard, RN, Highpoint Health Infection Preventionist, during the sports physicals program at Highpoint Health. Jackson's sports are football, baseball and archery. Photo provided.
(Lawrenceburg, Ind.) - A total of 267 student athletes, in grades six through twelve, from 11 southeastern Indiana schools received sports physicals during an afternoon event coordinated by the Highpoint Health Physical Therapy & Sports Medicine Department and Beacon Orthopaedics & Sports Medicine.
The annual spring program consisted of 11 different stations set up in the Highpoint Health conference rooms, each offering a different exam and/or screening. Stations, which were staffed by medical and healthcare professionals, included height and weight; vision; blood pressure and heart rate; ear, nose and throat; and spine and extremities.
More than 60 individuals worked to make the event possible including physicians, nurse practitioners, hospital staff, physician office personnel and Auxiliary members. Highpoint Health Physician Partners Family Medicine Physicians Jill Tibbe, M.D., and Christopher Walcott, M.D., along with Beacon Orthopaedic Surgeons David Argo, M.D., Medical Director for the Sports Outreach Program, and Robert Burger, M.D., took part in the event.
Athletes from St. Mary of the Immaculate Conception School and St. John Lutheran School, both in Aurora, plus students from Lawrenceburg, Milan, Rising Sun, South Dearborn, South Ripley and Switzerland County School Corporations participated in the event. Students were charged $20 each for the physicals, of which $10 per student was then returned to their respective school's athletic department. In addition, all student participants were given T-shirts with the slogan "Sports Physicals/Bring Your Game," courtesy of Highpoint Health and Beacon Orthopaedics.