Tickets are on sale now for the world-famous basketball exhibition and comedy show.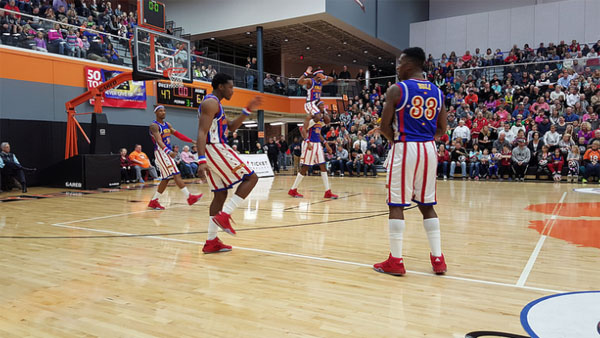 The Harlem Globetrotters at Lawrenceburg High School in January 2016. Photo by Travis Thayer, Eagle Country 99.3.
(St. Leon, Ind.) – For the second time in four years, the Harlem Globetrotters are coming to southeastern Indiana.
The one-of-a-kind basketball show visited Lawrenceburg High School during its 90th Anniversary World Tour back in January 2016.
Now, the Globetrotters are set to bring their ball-handling wizardry, basketball artistry, rim-rattling dunks, trick shots and hilarious comedy to St. Leon on January 17, 2019. The event will be held at the East Central High School gymnasium.
After the game, Globetrotters stars will sign autographs and take photos with fans.
Bench tickets cost $130 and includes a seat on the bench with the team, backstage meet and greet, replica jersey, program and Sharpie lanyard. General admission is $25.
Attendees can also purchase an additional Magic Pass for $15. The Magic Pass allows for a once-in-a-lifetime pre-event experience on the court with the Globetrotters – shooting, trying out ball tricks and getting autographs and photos.
Tickets can be purchased now at www.harlemglobetrotter.com or at the East Central High School box office, 1 Trojan Way in St. Leon.