Kamryn McCool and her 206 strikeouts had something to say about who won the conference's MVP award.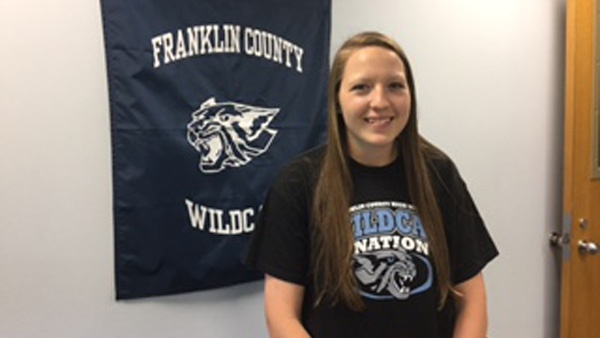 Kamryn McCool. Photo by Franklin County HS Athletics.
(St. Leon, Ind.) – Franklin County's Kamryn McCool, she of 206 strikeouts thrown this past season, is the 2018 Eastern Indiana Athletic Conference Softball Most Valuable Player.
McCool leads the selection of 24 players to the EIAC All-Conference Softball Team announced Friday.
A senior for the sectional champion Wildcats, McCool excelled both at the plate and on the mound. With the bat, she had a .500 batting average, 1.341 OPS, 48 hits in 96 at-bats, 23 RBI, 9 doubles, 4 triples, and 3 home runs while drawing 17 walks and striking out only 6 times.
As a pitcher, the future Mount St. Joseph University Lion was even more impressive. She reached a 14-2 record in 112.1 innings pitched all season while amassing 206 strikeouts. She allowed 19 earned runs.
To top it off, McCool's sister Kendall joined her on the all-conference team. Their brother, Alex, is the team's head coach and father, Tim, is an assistant.
The EIAC Softball Team of the Year was conference champion East Central, whose coach Steve Coffman was named the EIAC Softball Coach of the Year.
The full EIAC All-Conference Softball Team for the 2018 season is below:
East Central – Whittni Howard, Carson Bennett, Lindsay Henson, Jessie Kincer, Megan Kincer.
Franklin County – Alex McCool, Kendall McCool, Hannah Hornsby, Gabby Mitchum.
South Dearborn – Graci Cornett, Lexi Dittmer, Kennedy Miller, Olivia Nagel.
Greensburg – Kirstin Hersley, Bailey Meyer, Melina Wilkison
Connersville – Allison Woytik, Jeri Ellis
Batesville – Kylie Laker, Kara Obermeyer
Lawrenceburg – Taylor Lawrence, Brooklyn Sturgill
Rushville – Adrian Marquez, Betsy Muir