Roden will not coach tonight for Oak Hills, but he is expected to fully recover and be back to teaching and coaching soon.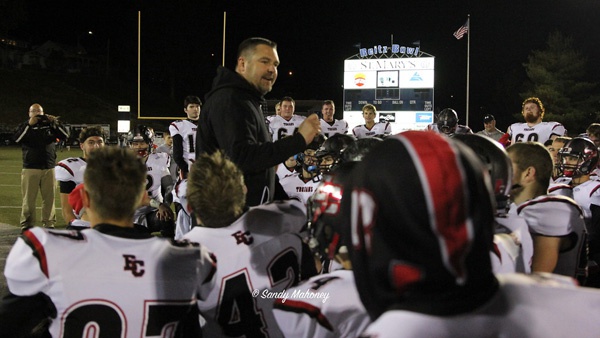 Justin Roden during his final season at EC. File photo by Sandy Mahoney.
(Cincinnati, Oh.) - Former East Central football coach Justin Roden has been diagnosed with Bell's Palsy.
Roden will not coach for Oak Hills when they take on Colerain Friday night, according to Krista Ramsey, director public relations and communication at Oak Hills Local Schools. Assistant coach David Dransman will assume the head coaching duties tonight.
Bell's Palsy is a non-contagious, typically temporary and not uncommon condition thought to be caused by a virus or nerve inflammation. The diagnosis is not expected to keep Roden out long.
"He expects to be fully recovered and back to teaching and coaching duties soon," said Ramsey.
Roden underwent a COVID-19 test as a precaution despite showing no symptoms. Because he had the test, Roden is voluntarily quarantining for 48 hours.
The former Trojans head coach spent five seasons at East Central. During his time in St. Leon, Roden led the Trojans to two state championship appearances, including a state championship win in 2017.
He left East Central following the 2017 season and landed at Noblesville. In November 2019, Roden returned to the tri-state area as the head coach at Oak Hills.