University of Louisville pitcher Bryan Hoeing was selected in the seventh round of the 2019 MLB Draft by the Miami Marlins.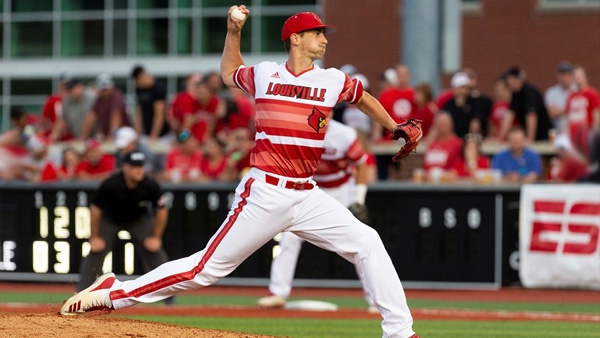 Bryan Hoeing pitches the ball during the Louisville Cardinals NCAA Regional game against UIC at Jim Patterson Stadium on May 31. Photo by Jermaine Bibb, Louisville Athletics.
(Batesville, Ind.) - A former Batesville Bulldog could be pitching in the big leagues someday.
Bryan Hoeing is a 2015 graduate of Batesville High School. He has been a right-handed pitcher for the University of Louisville's baseball team since then.
This week in the MLB draft, Hoeing was selected in the seventh round – 201st overall – by the Miami Marlins.
Before he signs and heads to the minors, Hoeing will continue playing for the Louisville Cardinals in this weekend's College World Series Super Regionals three-game series against East Carolina.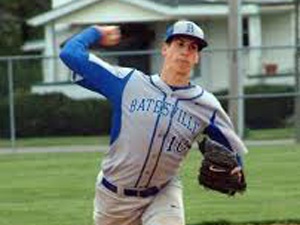 Hoeing as a pitcher at Batesville High School. Photo by Batesville Herald Tribune.
Hoeing has heard his name called in the draft twice before. He was drafted in the 32nd round by the Arizona Diamondbacks in 2015 and in the 36th round by the San Francisco Giants in 2018. He did not sign either time, instead opting to attend and stay at Louisville.
Hoeing has made 55 career appearances on the mound for the Cardinals, working as both a starter and reliever. The right-hander holds a 10-5 career record with a 3.12 ERA in 150 innings. He began this senior season as a starter, but has since moved to the bullpen where he has maintained a 2.13 ERA with 39 strikeouts in 38 innings.
The former BHS Bulldog isn't the only professional ballplayer in his family. His cousin, Greensburg High School graduate Alex Meyer, pitched in the big leagues for parts of three seasons. After being drafted by the Boston Red Sox in the 20th round in the 2008 draft, Meyer appeared in 36 games for the Minnesota Twins and Los Angeles Angels. He underwent shoulder surgery in 2017.
Congratulations to @BatesvilleBB and @BulldogsBville alum @BryanHoeing. Good luck with everything! We cannot wait to watch your journey! https://t.co/mavUkp0zia

— Batesville Baseball (@BatesvilleBB) June 4, 2019