MLS Commissioner Don Garber is expected to announce FCC as the league's newest expansion team on Tuesday.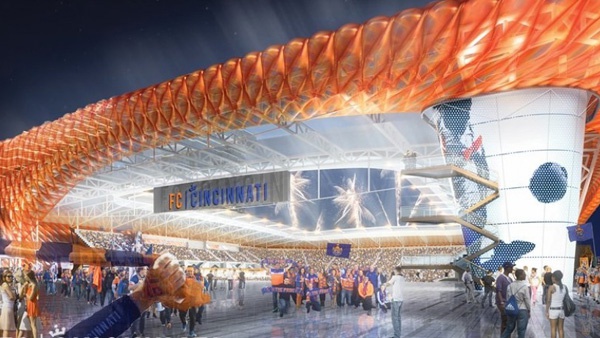 A rendering of what FC Cincinnati's future stadium could look like. File photo.
(Cincinnati, Oh.) – It's the moment FC Cincinnati soccer fans have been waiting on for over a year.
According to multiple reports including WCPO-9, Major League Soccer Commissioner Don Garber is expected to be in Cincinnati on Tuesday, May 29 for a "major announcement."
It has been wildly speculated that the commissioner will be in town to announce Cincinnati as the next MLS expansion city, which would likely move FC Cincinnati into the top professional soccer league in the U.S. beginning next year.
The expansion process has been a bit of a roller-coaster as team officials worked tirelessly to hammer down a stadium deal, despite some opposition from city leaders and the general public. Those who have followed the MLS expansion process know that a soccer-specific stadium is a requirement for expansion cities.
After months of work and plenty of controversy, a deal was finally put in place earlier this month to build an MLS stadium in the city's West End neighborhood on the current site of Taft High School's Stargel Stadium.
FC Cincinnati says they will pay for the $200-million, 21,000-seat stadium and the $150 million MLS franchise fee. As part of the stadium deal, FC Cincinnati will also pay $25 million into the Cincinnati Public School system over the next 30 years.
City Council has agreed to contribute $36 million for stadium infrastructure, while Hamilton County Commissioners have pledged $15 million to build a parking garage.
If FC Cincinnati enters the MLS next season, they will continue to play their games at Nippert Stadium until their new stadium is complete.
A public celebration is set for Tuesday at 4:30 p.m. in Fountain Square.
As for this season, FC Cincinnati is currently 6-2-2 and in first place in the USL Eastern Conference. They will host Louisville City FC this Saturday for leg two of the River Cities Derby.
FC Cincinnati is also still alive in the U.S. Open Cup. On June 6, the boys in orange and blue will host MLS side Minnesota United FC in the fourth round of the tournament.
RELATED STORIES: