Listen to East Central vs. South Dearborn on Eagle Country 99.3 starting at 6:40 p.m. Friday.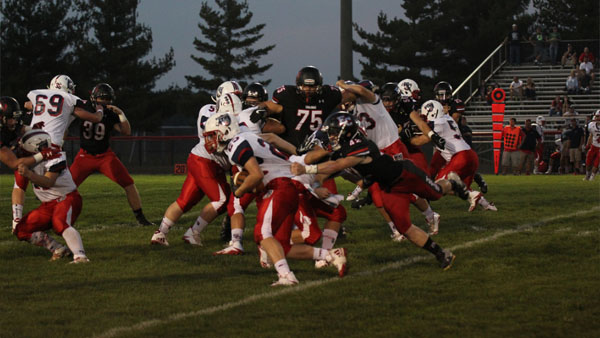 In their last meeting on September 22, 2017, East Central defeated South Dearborn 34-0. Photo by Sandy Mahoney.
(Aurora, Ind.) – The last time South Dearborn beat East Central in high school football, Bill Clinton was president, gas was averaging $1.26 per gallon, and Mariah Carey's "Honey" topped the music charts.
Twenty-one years is a long time to go without beating an in-county rival. The upstart Knights hope to end the 24-game losing streak to the Trojans in Aurora on Friday night.
Eagle Country 99.3 will broadcast the game starting with pregame coverage at 6:40 p.m. Listen on 99.3 FM or www.eaglecountryonline.com. Kickoff is at 7:00 p.m.
Both teams enter with a 4-1 record, including 1-0 in the Eastern Indiana Athletic Conference.
South Dearborn feels this game could be different than those over the past two decades. The Knights have won four straight games for the first time since 2011, thanks in large part to the best scoring defense in the state in Class 4A allowing just 4.2 points per game. The SD defense is led by linebacker Austin Terrill and defensive end Zach Dick.
On offense, the Knights' running game has gone through junior Dalton Guthrie and senior David Blair. Quarterback Adam Dixon, a junior, and Ethan Getz, a senior, have been connecting on deep routes all season.
But East Central is rolling offensively – they average 44 points per game – and has a habit of putting overconfident conference opponents in their place. The Trojans have not lost an EIAC game since 2013.
EC's senior quarterback, Alex Maxwell, is making a serious case for the conference's offensive MVP. He has thrown for 583 yards with four touchdowns and three interceptions. He's posted 369 yards rushing and 13 more scores.
And never discount the East Central defense, allowing a more than respectable 13.6 points per game. Brett Fox has been making life miserable for opposing quarterbacks with 4.5 sacks to go with his 32 tackles.
Who will win the @ECTrojanSports (4-1) vs @SDKnightsFB (4-1) game on @eagle993 tonight?

— Eagle Country 99.3 (@eagle993) September 21, 2018
Other area games on Friday, September 21
Indiana
Lawrenceburg at Batesville, 7:00 p.m.
Franklin County at Greensburg, 7:00 p.m.
Milan at Edinburgh, 7:00 p.m.
Switzerland County at Rock Creek, 7:00 p.m.
Lighthouse East vs. Oldenburg Academy (at Cincinnati Elder's field), 7:00 p.m.
Ohio
Edgewood at Harrison, 7:00 p.m.
Taylor at Deer Park, 7:00 p.m.
Kentucky
Conner at Newport Central Catholic, 7:00 p.m.
Dixie Heights at Boone County, 7:00 p.m.
Walton-Verona at Owen County, 7:30 p.m.