East Central had the best team but it was South Dearborn who produced the Most Valuable Wrestler.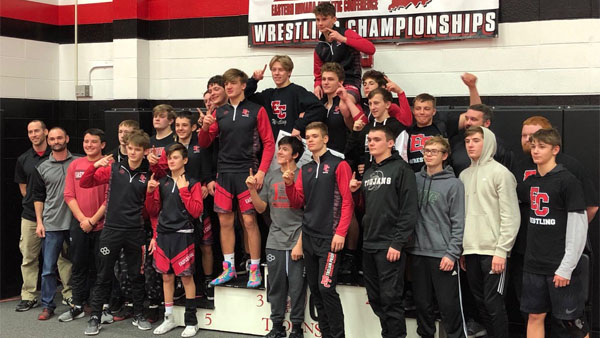 East Central celebrates winning the 2018-19 EIAC Wrestling Tournament. Photo by EC Athletics.
(St. Leon, Ind.) – East Central had the best wrestling team in the EIAC this season, but it was a wrestler from South Dearborn that took home Most Valuable Wrestler.
The Eastern Indiana Athletic Conference recently released its 2018-19 Boys Wrestling All-Conference Team, MVW and Coach of the Year.
The Most Valuable Wrestler went to Bryer Hall. The Knights sophomore won a conference, sectional and regional championship in the 145 lbs. weight class. Hall finished the season with a 34-1 record after being knocked out of the semi-state tournament in the second round.
East Central won the 2019 EIAC Wrestling Tournament behind three individual championships from Tyler Schneider (113 lbs.), Adam Negangard (138 lbs.) and Kole Viel (182 lbs.).
For Lawrenceburg, they had three all-conference selections in Grant Stapleton and Andrew Roberts and Andrew Roth.
The 2018-19 EIAC Wrestling Coach of the Year is East Central's Mark Kirchgassner.
The full 2018-19 EIAC Wrestling All-Conference Team is listed below. All-conference selections were determined by the individual champions at the conference meet in February.
106 – Andrew Merritt – Franklin County
113 – Tyler Schneider – East Central
120 – Eli Otto – South Dearborn
126 – Grant Stapleton – Lawrenceburg
132 – Austin Boggs – South Dearborn
138 – Andrew Negangard – East Central
145 – Bryer Hall – South Dearborn
152 – Andrew Roberts – Lawrenceburg
160 – Andrew Roth – Lawrenceburg
170 – Colton Massey – Connersville
182 – Kole Viel – East Central
195 – Evan Shafer – Connersville
220 – Zach Dick – South Dearborn
285 – Zach McQueen - Connersville