Five others from southeastern Indiana represented their school at the state finals.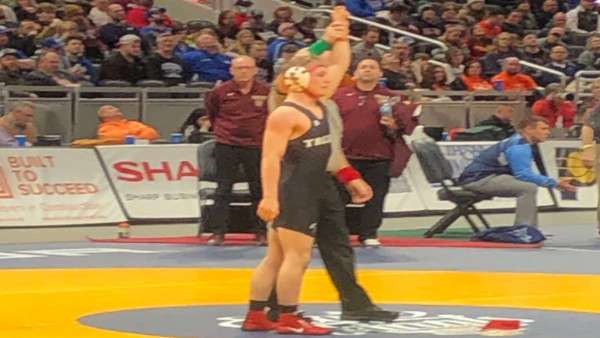 Rider Searcy following his semifinals win at the state finals. Photo by Principal Black.
INDIANAPOLIS - Perhaps, East Central junior Rider Searcy will take the path of former East Central High School wrestling great Bryer Hall.
Searcy (47-3) finished his junior season as the runner-up in the 145 lbs. weight class at the IHSAA Wrestling State Finals on Saturday. He was defeated by pinfall in the championship match by Center Grove senior Hayden Watson.
Watson came into the tournament as the #2 ranked wrestler at 145 lbs. Searcy was ranked 9th.
If history is to repeat itself and Searcy becomes a State Champion in 2023, he would be taking the same path Bryer Hall did. Hall was the state runner-up during his junior season when he wrestled at 152 lbs. He made the jump to 170 his senior season and went undefeated, winning the state title by pinning all four of his opponents.
Rider Searcy 2nd place 🥈 in the IHSAA State Finals! Well done Rider pic.twitter.com/82am3QI79C

— EC Trojan Athletics (@ECTrojanSports) February 20, 2022
East Central's Blake Wolf fell to eventual state champion Logan Frazier (#1, Crown Point) in the 126 lbs. semifinal. Wolf finished in 4th place after falling to Matteo Vargo (#2, Penn) in the 3rd place match.
Wolf will get another crack at the state title next season as a senior. Based on the end of season rankings for 2022, Wolf is the third-highest ranked wrestler returning next season at 126 pounds, only behind this year's champ Logan Frazier and Joey Butler of Whiteland.
Blake Wolf smiling at Principal Black after he awarded him his medal. pic.twitter.com/4dpnYzr8jp

— EC Trojan Athletics (@ECTrojanSports) February 20, 2022
David Nash, Charlie Euson, and Ryan Bovard also qualified for the state finals for the Trojans. All three were defeated in the opening round in their respective weight classes.
Lawrenceburg's Corbin Walston was the only other representative from southeastern Indiana. He too was defeated in the opening round.
For more information, visit www.trackwrestling.com.