The State Finals happen this Friday & Saturday.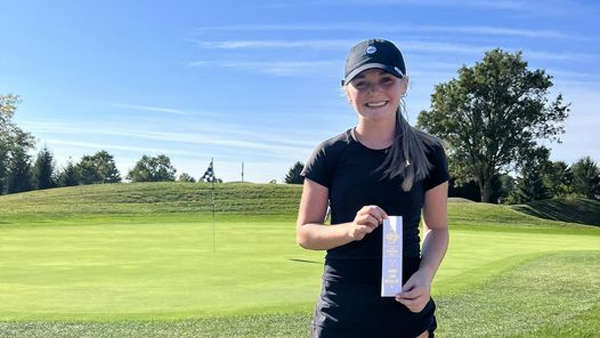 Rowan Pies. Photo by EC Athletics.
(Franklin, Ind.) – Three golfers from southeastern Indiana have advanced to the IHSAA State Finals.
Batesville, Franklin County, East Central, and Switzerland County competed at the Franklin Community Regional on Saturday.
The Lady Bulldogs (318) finished four strokes behind Franklin Community for third place, falling just short of advancing to the State Finals as a team.
However, Batesville's Ava South and Addyson Weiler advanced without their team, carding identical scores of 76.
East Central sophomore Rowan Pies tied for the lowest round of the day with a 73. She too advances to the State Finals.
The State Finals will be contested Friday, September 29 and Saturday, September 30 at Prairie View in Carmel.
See team and individual scores from the regional round below.
The BHS golf team carded a score of 318 to place 4th at the Franklin Regional.

Scoring:
Ava South 76
Addyson Weiler 76
Josie Meyer 77
Zoey Ahern 89
Alexis Gallagher 96

* Weiler and South advance to the IHSAA State Finals as individuals. pic.twitter.com/ovVpZeZHZL

— Batesville High School (@BulldogsBville) September 23, 2023
Team Scores: 1) Center Grove 300, 2) Floyd Central 311, 3) Franklin Community 314, 4) Batesville 318, 5) New Albany 359, 6) Corydon Central 363, 7) Franklin County 368, 8) Bloomington South 376, 9) Greenwood 394, 10) Martinsville 401, 11) East Central 403, 12) Columbus East 407, 13) Madison 420, 14) Switzerland County 465, 15) Scottsburg 510
Batesville – Ava South (76), Addyson Weiler (76), Josie Meyer (77), Alexis Gallagher (96), Zoey Ahern (89)
East Central – Rowan Pies (73), Riley Havlin (116), Miriam Weber (110), Alyssa Riehle (107), Savanna Roope (113)
Franklin County – Crystal Calihan (92), Nicole Mears (84), Lille Graf (97), Jacy Grimmies (101), Emma Tolhurst (95)
Switzerland County – Alexis Mangold (110), Bri Stow (119), Payton Stow (133), Marilynn Dalrymple (112), Makayla Bowling (124)
Kayla Walke, of Milan - 111