The Trojans standout was an EIAC and sectional champion this past season.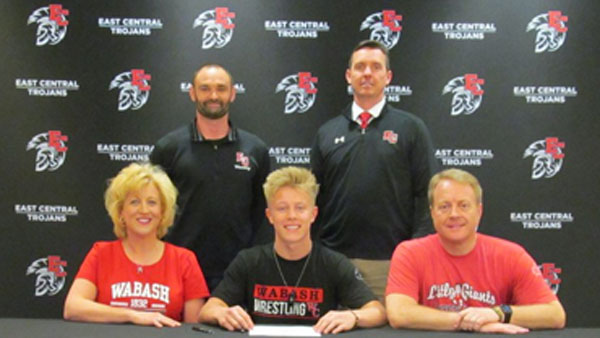 Adam Negandard signs his letter of intent to wrestle at Wabash College. Photo by EC Athletics.
(St. Leon, Ind.) – One of the top high school wrestlers in southeast Indiana has made his college declaration.
East Central star Adam Negangard recently signed his letter of intent to continue his academic and athletic career at Wabash College.
As a senior, Negangard won an EIAC and sectional championship at 138 pounds. He went on to finish in 3rd place in the regional, which was good enough to qualify for the semi-state competition.
Negangard will join a familiar face on the Wabash wrestling team. Former Trojans standout Trevor Snipes will be entering his sophomore year this fall.
Aside from wrestling, Negangard intends to study Business and Economics.
Adam is the son of Aaron and Audra Negangard.