We doubt there will be enough room in Greiwe's dorm for all the awards she's already won.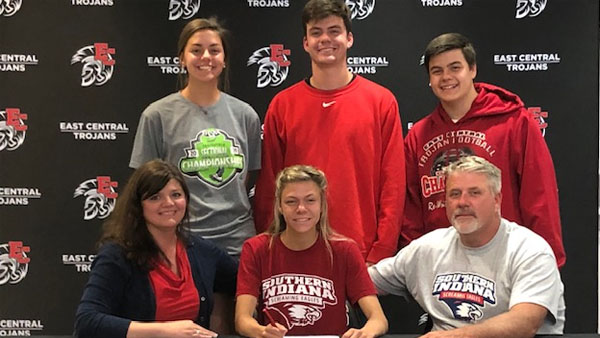 Lauren Greiwe signs her letter of intent to run at USI. Also pictured: Joett Greiwe, Scott Greiwe, Lilly Greiwe, Evan Greiwe, and Ethan Greiwe. Photo by EC Athletics.
(St. Leon, Ind.) – One of the most decorated cross country and track and field champions in East Central High School history is heading southwest to college.
Lauren Greiwe recently signed her letter of intent to continue her academic and athletic career at the University of Southern Indiana in Evansville.
Greiwe is third on EC Cross Country's Top 10 list. She is also a seven-time EIAC champion, eight-time sectional champion, six-time regional champion and a three-time state qualifier.
At USI, Greiwe plans to pursue a bachelor's degree in Radiology/Sonography.