It was a great season for the Trojans!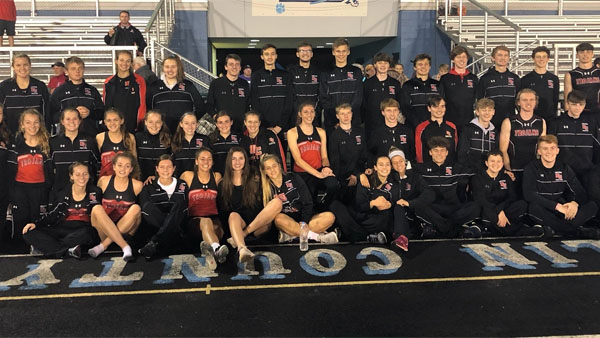 The EC boys and girls track & field teams pose together after taking first-place at the EIAC Meet. Photo by @ECentralTrack.
(St. Leon, Ind.) – Make it back-to-back conference championships for the East Central boys track & field team.
Not only did the Trojans win the Eastern Indiana Athletic Conference Meet on May 9, they also lead with seven athletes on the All-EIAC Boys Track & Field Team.
They are Chase Ludwig, Michael Medlock, Luke Hornbach, Erik Perkins, Clayton Deitsch, Leo Maxwell and EIAC Most Valuable Athlete Alex Hornbach.
Hornback was the conference champion in the 100 meter dash and the 200 meter dash.
East Central head coach Tom Harris was named the EIAC Boys Track & Field Coach of the Year.
Batesville had seven all-conference selections, including James Kuisel, Adam Moster, Joshua Myers, Ean Loichinger, Jonathon Lynch, Benjamin Moster and Kent Meyers.
Franklin County was represented by Brady Bogan and Hunter Tschaenn.
Rushville's only All-EIAC runner was Daimon Austin.
RELATED STORIES:
2019 All-EIAC Girls Track Team; EC's Andres Coach Of Year; G'burg's Brenner MVP