The Trojans will play #2 Franklin in the first round of regional play on Saturday morning.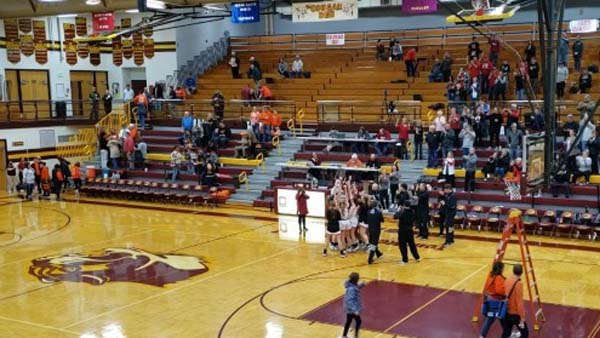 East Central celebrates their third consecutive sectional championship win. Photo by Travis Thayer, Eagle Country 99.3.
(Bloomington, Ind.) - It was a night that will not be soon forgotten.
On Tuesday night at Bloomington North High School, the #11 East Central Lady Trojans three-peated as sectional champions with a 72-67 win over #8 Columbus East.
It was a back-and-forth affair as both teams traded buckets and leads, 21 to be exact.
But the Trojans prevailed in the end behind big time performances for their stars and timely baskets and defensive stops.
LISTEN TO THE EAGLE COUNTRY 99.3 BROADCAST REPLAY HERE
"You get a little emotional," said Head Coach Kevin Moore. "This is my 13th year. All the work I do, my assistants do, and the parents do, and the kids do all the way from third grade up. I remember watching Hope Fox play as a third grader and I'm thinking I can't wait to coach that kid. It's emotional because they work their tails off and there is this stigma about girls basketball, but not to me. We've become one of the best programs in the state of Indiana, not just girls basketball."
Junior forward Josie Trabel was magnificent with a career-high 36 points. Trabel was in attack mode from the tip, scoring 20 points in the first half and adding 16 points in the second half. Her 36 points tied the school record for most points in a single game. Robin Theising matched that total in a game against Milan during the 1990-91 season.
"I was kind of feeling it in warmups and I knew coming in we were going to have to score the ball," said Trabel. "They get so extended on their zone and I knew the driving lanes were going to be open as long as our guards didn't turn it over and they did a really good job of that. Things just really flowed for us, and we got the ball to each other."
Senior guard Hope Fox got off to a slow start, partially due to foul trouble, scoring only three points in the first half. After a pep talk at halftime from Coach Moore, Fox came out firing in the second half scoring 19 in the final two quarters. Fox went 7-8 from the free throw line, making six, clutch free throws down the stretch. The final free throw make gave Fox 1,000 career points. She is the fourth player in program history to reach that milestone.
"He said you don't want your senior season to end like this," said Fox. "One of the keys to the game was to be aggressive. Once I got in attack mode, it was either a dump off to Josie or a kickout to Happy or Julia, Laney because we have a lot of shooters. So, team effort, we worked really hard, and I couldn't be more proud."
Caitlyn Dick, Laney Baker, and Juila Tieman combined to score 14 points, nine of which came from Dick. The junior guard knocked down a couple of timely three-point baskets and helped seal the game with three free throws in the 4th quarter.
"I just love this team," said Dick. "We play as a team and you can just see it and feel it out there."
Overall, the Trojans shot 14-16 from the charity stripe.
Defensively, the Trojans held Columbus East to their average of 67 points per game. Koryn Greiwe led the Olympians in scoring with 25 points. Their other big star, Saige Stahl, had 12 points - while playing with a dislocated pinky on her non-shooting hand.
East Central had never won three consecutive sectional titles until Tuesday night. The sectional championship win is their 7th in program history.
It will be a quick turnaround for the Trojans. They will play #2 Franklin (25-1) in the first round of regional play on Saturday (10:00 a.m.) at Columbus North. Should the Trojans win, they would play either #3 Bedford North Lawrence or Castle in the regional title game.
…well worth the nearly 14 hours on a school bus this past week! So proud of our kids and the assistant coaches for the supreme effort and commitment to winning. Also a shoutout to the parents/fans for their support this week! Regional bound!!!#workwins https://t.co/KJGZfsRtKX

— Kevin Moore (@CoachKevinMoore) February 9, 2022
@hopemfox and her family made a commitment to the game of basketball from a very early age. It's not by accident that she's in the elite 1,000 point club and has 3 Sectional championships on her resume! #workwins https://t.co/lK0l40Q6e0

— Kevin Moore (@CoachKevinMoore) February 9, 2022