Get a team together for the most unique golf outing around.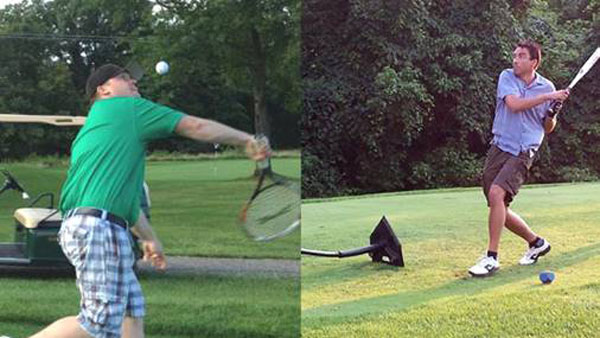 Dearborn County Young Professionals Goofy Golf Outing. File photo.
(Dearborn County, Ind.) - Dearborn County Young Professionals' ninth annual Goofy Golf Outing features a few fun challenges that you won't find at other charitable golf events.
Golf outings are usually dominated by the players who take their game seriously, but this one levels the playing field for those who just like to have fun. While some holes at this quick nine-hole, four-person team scramble will be played the traditional way, others will require teams to play with a tennis ball or putt with a plastic flamingo.
Goofy Golf will take place Friday, May 31 at Hidden Valley Golf Club, 19775 Alpine Drive, in Lawrenceburg, Indiana. Check-in/registration begins at the clubhouse at 5:30 p.m. and tee time is 6:00 p.m.
Following the fun on the magnificent course, players will gather in the clubhouse for dinner, drinks, and networking. DCYP will also hand out trophies and prizes to the first-place team and the last-place team will receive the coveted Goofy Golf Horse's Behind trophies. There will also be some on-course competitions for which prizes will be given.
This DCYP event is open to everyone. Cost is $30 per person for DCYP and Dearborn County Chamber of Commerce members/employees and many other local professionals in the community. Registration includes your cart fee, round of golf, two drink tickets and an all-you-can-eat buffet after golf. We ask that you register as pairs and then your pair will be randomly teamed up with another pair for the event.
To register early, please contact Jessica Fields by emailing her at jkfields2016@gmail.com
Registrations are also accepted the day of starting at 5:30 p.m. for anyone that was unable to register early for the Goofy Golf event.
Funds raised in the DCYP Goofy Golf Outing will go towards DCYP's high school business planning competition and the DCYP Scholarship Fund benefiting students at Dearborn County's three high schools: East Central, Lawrenceburg, and South Dearborn.
Contact DCYP at dearborncountyyp@gmail.com with questions.