It's one last high school go-around for a couple local products, while some underclassmen prepare for the upcoming 2018 season.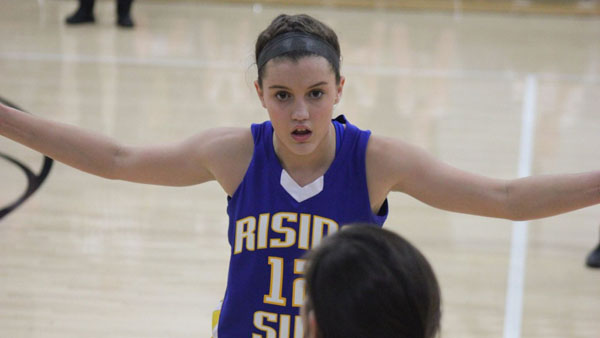 Lucy Carrigan is among a handful of local basketball stars that will play in the Indiana Class Basketball All-Star Classic on this weekend. File photo.
(Rising Sun, Ind.) – Some of the top Indiana high school boys and girls basketball players will take to the court this weekend at the Indiana Class Basketball All-Star Classic.
The annual event, started by former Indiana Hoosier star Kent Benson will take place Friday, June 15 and Saturday, June 16 at Anderson University.
Recent Rising Sun High School graduate Lucy Carrigan will participate in the Senior Girls All-Star Game on Friday at 12:30 p.m.
As a senior, Carrigan averaged 24.3 points, 8.1 rebounds and 3.3 steals per game. She also set a school record for points in a game with 47 against Milan on December 15. This fall, Carrigan will play collegiately at Thomas More College.
Lawrenceburg's Juliana Kemper, who averaged 21.8 points and 10.5 rebounds as a sophomore, will play in the Girls Future All-Star Game on Friday at 6:30 p.m.
Alyssa Robben, a soon-to-be senior at East Central, is set to compete in the Junior All-Star Game at 2:00 p.m. on Saturday. This past season, Robben averaged 11.4 ppg and 6.6 rpg.
On the boy's side, Jac-Cen-Del High School graduate Conner Hubbard will play in the Boys Senior All-Star Game. The Eagles star averaged a double-double as a senior with 11.6 points and 10.5 rebounds per game.
For more information and a full list of participants, visit www.excelhsports.com.