Breeck tallied his 1,000th career point against Franklin County.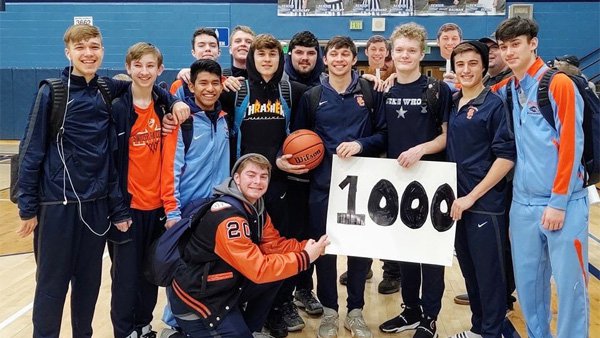 Damian Breeck surrounded by his Switzerland County teammates after recording his 1,000th career point. Photo via @SCPacerBBall.
(Vevay, Ind.) – Not one, not two, but three boys basketball players have earned Ohio River Valley Conference weekly honors.
The ORVC report for the week of February 10-15 was released Tuesday.
Damian Breeck (Switzerland County), Justin Ohlmansiek (Jac-Cen-Del) and Foster Mefford (Southwestern) are the ORVC Boys Basketball Players of the Week.
Breeck averaged 20 points, 6.5 rebound and 3.5 assists in two games last week. He also became the fifth player in Switzerland County history to eclipse the 1,000-career point mark.
Congratulations @damian_breeck for reaching a milestone that only 4 other Pacers have reached in school history. It has been a blessing to have you as a part of our family! @indyhsscores @HoopsHall #1000 pic.twitter.com/0AZKGSdBY8

— Pacer Basketball (@SCPacerBBall) February 16, 2020
Ohlmansiek totaled 59 points in two games including a 40-point performance against Southwestern (Shelbyville).
Mefford also had a 40-point performance in a win over South Decatur.
Other top performers for the week of February 10-15 are listed below.
BOYS BASKETBALL
Brandon Baber (JCD) 28 pts, 12 rebs, 2 ast, 2 stl in 2 gms
Wyatt Day (JCD) 34 pts, 10 ast, 6 rebs, 4 stl in 2 gms
Austin Kramer (SW) 25 pts, 15 rebs, 15 ast, 7 stl, 6 3's in 2 gms
TJ Manifold (RS) 25 pts in 2 games
Zach Cole (SW) 21 pts, 17 rebs, 7 ast, 7 stl in 2 gms
Bryce Franklin (SR) 20 pts, 5 rebs in 2 games
Jaden Peetz (SR) 13 pts, 7 rebs, 4 blk in 2 games
Cody Samples (SR) 36 pts, 12 rebs, 11 stl, 6 ast in 2 gms
Landon Wilks (SC) 22 pts, 17 ast, 7 rebs in 2 games
Zach Weaver (SC) 28 pts, 13 rebs in 2 games