Cardio, strength, and flexibility are among the topics covered.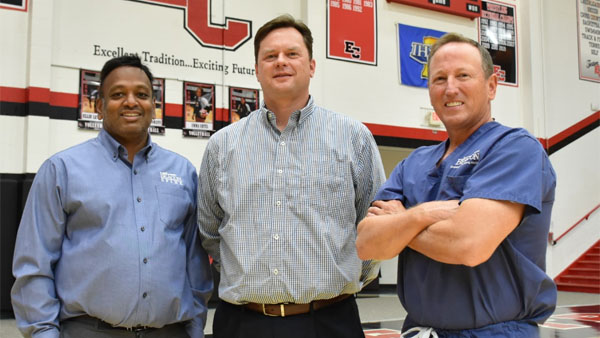 Photo provided.
Over the past few months, many people have found that working out is a rewarding and healthy way to spend socially distanced time. However, as the temperature drops, it may become increasingly difficult to stay fit. Daylight hours are limited, and it is often too cold to get outside, making healthy outdoor exercise difficult to enjoy. Many times, we do it wrong or just avoid it altogether.
Dr. Todd E. Grime specializes in primary care sports medicine at Beacon Orthopaedics & Sports Medicine. He encourages all of his patients to exercise during the winter to maintain fitness levels. "Creating a reasonable and attainable winter exercise plan for yourself is a great goal," said Dr. Grime.
Each spring, patients visit Dr. Grime's office who jumped right into softball, running, or training for a 5K without exercising all winter. He also sees injuries from people who were motivated to do yardwork on that first sunny weekend of spring. And if they've been the proverbial "couch potato," they simply have not properly prepared their muscles for that kind of exertion.
Dr. Grime advises everyone to stay active throughout the year. This isn't about resolutions or weight loss. It is about forming – and keeping – healthy year-round habits. One of those habits is smart exercise. Running marathons isn't for everyone but having a body without injury and pain is! So, Dr. Grime offers these tips to stay healthy and active throughout the winter.
For cardio:
As we all know, walking is one of the best activities because it's free, you already know how to do it, and you can do it anywhere. Here are some reminders if you walk outdoors:
1. Dress dry, not just warm. Protecting your head, hands, feet and ears is essential to staying safe while walking outside in the winter.
2. Check your traction. Outdoor winter workouts can get slippery and dangerous fast. Stay on treated surfaces. Roads or trails that are not well-maintained can cause ankle or other injuries.
3. Warm up properly. Good warm-ups are important especially in the cold. When you warm up and stretch, you increase blood flow to the muscles ("warming them") which can decrease the risk of sprains and strains. Now, if you are not going to brave the cold, you can still walk on a treadmill. Be sure to warm up sufficiently inside too.
4. Drink water. Always drink water during any physical activity. Hydrating your muscles will help them perform better.
For strength:
1. Grab a can out of the pantry for bicep curls.
2. Stand up (properly) from a chair 10 times.
For flexibility:
1. Gently swing your arms around in circles to increase shoulder flexibility.
2. Sit on the ground with your legs straight in front of you and move your ankles up and down to increase flexibility in your lower leg.
For all these exercises, remember that you should feel a moderate sense of effort, not an exertion effect. Start with a small number of reps and then, gradually increase throughout the weeks and months. Perhaps even working up to doing sets.
As always, if you or someone you love needs an evaluation, appointments are available at Beacon West, Lawrenceburg and Batesville, along with Saturday morning injury clinics and urgent care at Erlanger and Summit Woods. Go to www.beaconortho.com or call 513-354-3700 for an appointment. All 13 Beacon locations are seeing patients. Striving to ensure patient and staff health, Beacon offers Telehealth Video Visits and when seeing patients in person, they are using all approved safety protocols, including temperature checks, masks, hand sanitizing.
Providing a safe environment to diagnose and recommend the next steps for any injury is always the right thing to do. If you need to talk with a medical professional about pain, please visit our website to make an appointment or call 513-354-3700 to schedule an appointment.