Believe it or not, but almost half of Americans do not know how to swim.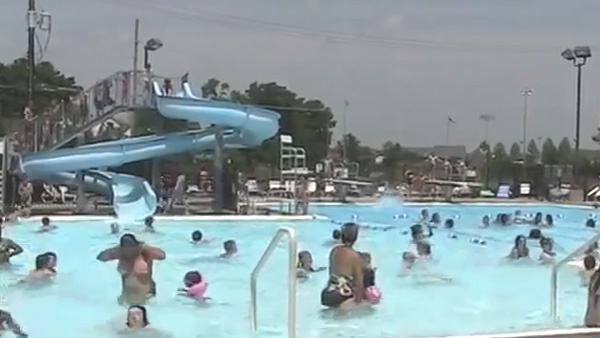 Lawrenceburg's Pat O'Neill Memorial Pool. File photo.
(Undated) - Although school's out for summer, it's never the season to stop learning. Doing some beach reading or some poolside sudoku are great ways to enjoy the warm summer days. They also keep your mind sharp. How about your body? Is it equally trained? For example, do you know how to swim?
According to a study done several years ago, almost half of all Americans (46%) report they do NOT know how to swim. That's a large number, but sadly it is not only those who don't know how to swim who meet danger at the pool. Unsupervised swimming is just as dangerous.
Spending time with family and friends is fun and memorable, but it's also important to be safe in and near the water. Whether swimming in the ocean, off a boat on the lake or in your neighborhood swimming pool, try to ensure a great time for everyone. There are a few common-sense rules that Beacon Orthopaedics & Sports Medicine experts agree upon to prevent drownings. In addition to these, they recommend getting trained in CPR. And if you are not trained, remember that Hand-Only CPR is better than no CPR at all. Read more about that here.
Just a few things to remember (whether you're in the water or watching from the deck) to be sure everyone has a good time.
At the pool:
Swim with a buddy.
Obey all posted rules and the lifeguard's instructions. The lifeguards are there to keep you and others safe -- listen to them.
ONLY swim where a lifeguard is on duty.
On a boat:
Wear a life jacket. Many tragedies could have been avoided, if the victim had simply been wearing proper safety gear. You wear a seatbelt when you drive or ride in a car. You wear a helmet when you ride a bike or motorcycle. Be safe on the water too.
Swim with a buddy.
Obey posted signs. Most parks and public dock areas provide clear instruction regarding entering the water off a boat (e.g. waterskiing, tubing or swimming). Follow their rules and instructions for a safe and fun outing.
At the beach or lakefront:
Obey posted signs.
Obey beach patrol announcements and weather alerts.
Swim where a lifeguard is on duty and if that's not possible, swim with a buddy.
In addition to these, according to one local swimming expert, the most important safety tip is something basic: learn to swim. "Knowing and obeying rules will make your time in and around the water enjoyable and safe for everyone," said Brandon Loveless, head swimming coach and swimming lesson coordinator at East Central High School. "However, knowing how to swim can truly safe your life."
In order to stay safe and enjoy the water, this summer, be sure to do these four things:
Get your CPR certification.
Learn to swim.
Take safety precautions.
Follow the rules.
While you are keeping up with your body's required maintenance. Be sure to do the things that still make sense. Eat healthfully. Drink a lot of water. Exercise responsibly. And do not ignore your body's "early warning system" -- pain. And if you have concerns, Click here to schedule an appointment today at Beacon's Lawrenceburg or Batesville office.