Preserving and strengthening hips becomes drastically more important. Especially once you hit the magic age of 50.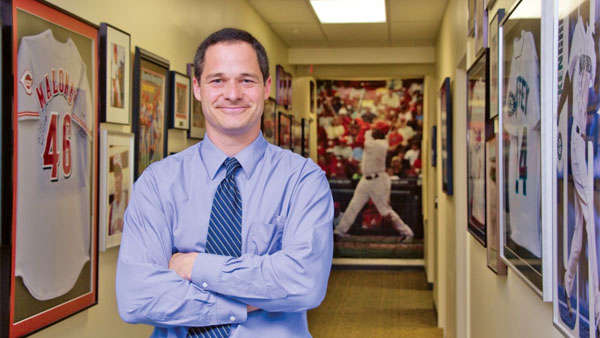 Dr. Matthew A. Johansen. Photo provided.
As we age, preserving and strengthening our hips becomes drastically more important. Especially once you hit the magic age of 50. The physicians at Beacon Orthopaedics & Sports Medicine are concerned about hip mechanics. The ball-and-socket joint that keeps a hip operating endures a lot of strain as we age, and without giving those joints the attention they need, they may rebel.
Beacon's Dr. Matthew A. Johansen specializes in treating hip arthritis and performing hip replacements. And he encourages working to avoid the strains or injuries. "Before you experience pain or an injury, here are three steps you can actively take to maintain healthy hips, he said.
1. Stretch It Out and Work it Out
You'll be relieved to learn that it doesn't have to be too difficult. The hard part is actually carving out the time in your busy day to purposefully stretch and work out. Here are a few simple stretches and exercises that have proven successful. Remember: if you feel pain at any point, stop and consult your physician.
Kneeling stretch: Kneel and place one foot in front of you — knee over ankle. Then, tuck your hips to place a stretch on the kneeling leg. Hold for 20 seconds and repeat on the opposite leg. Do three reps on each side.
Figure-four glute stretch: Lay on your back with your knees bent and feet flat on the floor. Place one ankle across the other knee to stretch your glute. Hold for 20 seconds and repeat on your other side. Repeat three times.
Butterfly stretch: In a seated position, place the soles of your feet together and grab your toes. Bring your feet toward your groin. Hold for 20 seconds and release. Repeat three times.
Hip raises: Lay in a starting sit-up position with your knees and feet together. Press through your feet and raise your hips as high as you can. Hold for five seconds and return to the floor. Do three sets of five reps.
Leg lift: Lay flat on the floor while keeping your knees and feet together. Slowly lift your legs off of the floor to a 45-degree angle. Return them to the floor. Do three reps of five.
2. Maintain a Healthy Weight
"As we are often told, healthy weight is truly important to your overall health — and that includes your hips," said Dr. Johansen. The amount of weight you put on your hips directly affects the amount of pain you experience, especially if you have arthritis. Drink plenty of water and exercise regularly.
3. Eat a Balanced Diet
Give your body vital nutrients helps keep you well. Specifically, Vitamin C supports collagen formation, which is important to cushioning and lubricating hip bones and sockets. It also improves bone health to help prevent fractures. Beyond that, include a range of anti-inflammatory and antioxidant-rich foods as part of your daily intake.
Here are a few good sources of vitamin C: citrus fruits (i.e. oranges), peppers, strawberries, blackcurrants, broccoli, brussels sprouts and potatoes.
Some anti-inflammatory foods include berries, fatty fish, broccoli, avocados, green tea peppers, mushrooms, grapes, turmeric, extra virgin olive oil, dark chocolate, tomatoes and cherries.
And some antioxidant-rich foods would be dark chocolate, pecans, blueberries, strawberries, artichokes, raspberries and kale.
Need More Hip Help?
If you are experiencing hip pain, contact Dr. Johansen or one of the other physicians at Beacon. Beacon Orthopaedics treats patients of all ages for various injuries and ailments – including hip difficulty. If you or someone you love is experiencing pain (whether from a sports injury or just usual exertion), you can always schedule a diagnostic appointment at Beacon West, Lawrenceburg and Batesville, or come to one of their Saturday morning injury clinics, or urgent care at Erlanger and Summit Woods.
Go to www.beaconortho.com or call 513-354-3700 for an appointment. All 15 Beacon locations are seeing patients.