There are evaluations, habit changes and perhaps other interventions to use before anyone should agree to joint replacement surgery.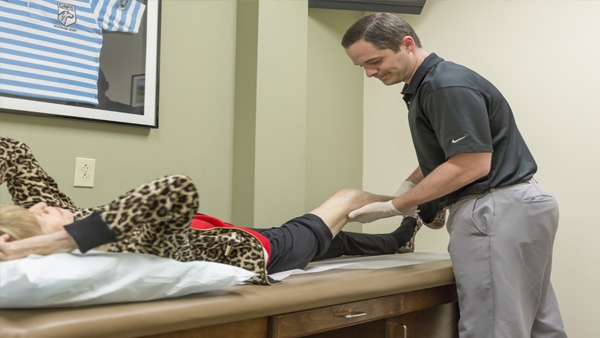 Dr. Johansen with a patient. Photo provided.
(Lawrenceburg, Ind.) - Many people know someone who has had joint replacement surgery with great success. Not long ago, that seemed to be an extreme solution to a common problem – damaged joints from overuse or aging. Dr. Matthew A. Johansen from Beacon Orthopaedics is one of the board-certified surgeons who sees local patients. He now performs those surgeries regularly.
When asked about joint replacement surgery, Dr. Johansen was quick to point out that there is not a rush to get to surgery.
He suggests that seeing a specialist when you are experiencing pain is the best first step. "Talk with your doctor to help determine if your pain level warrants surgery," he said. "And to identify if your inability to perform normal day-to-day activities means you need surgery." He stressed that leaping to "I need surgery" is not always the best course of care. There are evaluations, habit changes and perhaps other interventions to use before anyone should agree to joint replacement surgery.
Here are just a few of Dr. Johansen's tips for how to keep joints healthy before considering and agreeing to joint replacement surgery:
Maintaining Proper Weight. Being overweight places extra strain on your weight-bearing joints (e.g. knees, ankles and hips). While it will not replace cartilage, losing even 5% of your body weight can reduce stress on joints.
Exercise Regularly. Staying active can help reduce stiffness in those joints and strong muscles take strain off the joints. Exercise helps stimulate synovial fluid and can provide lubricating nutrients to cartilage that helps loosen joints – and possibly reduce pain. Low-impact activities and aerobic exercise at least three times a week will help patients achieve optimal joint health.
Eat Healthy. Feeding your body properly is always a good tip.
If you have done/are doing all the above and still experience pain, it may be time to discuss options with a medical professional. Some possible recommendations (before considering surgery) might be:
Joint Injections. Injecting cortisone or hyaluronic acid are non-operative options that can help relieve pain for some patients. There may be other regenerative medicine treatments to be considered, given a certain situation.
Medications. Taking anti-inflammatory medication or Tylenol should help reduce symptoms.
Wear a Brace. For some patients, using an unloader knee brace can sometimes effectively shift the weight burden away from the painful side of the knee.
"If these precautionary tactics fail and the joint pain affects daily functioning," said Dr. Johansen, "then it is time to talk about the surgery." Accompanied with purposeful physical therapy as part of a recovery plan, joint replacement surgery is a viable way for patients to regain pain-free mobility.
Dr. Johansen sees patients at Beacon Summit Woods, Beacon West, Beacon East, Lawrenceburg, and Northern Kentucky. In addition, all nine Beacon locations are seeing patients. Striving to ensure patient and staff health, Beacon offers Telehealth Video Visits and when seeing patients in person, they are using all approved safety protocols, including temperature checks, masks, hand sanitizing.
Providing a safe environment to diagnose and recommend the next steps for any injury is always the right thing to do. If you need to talk with a medical professional about knee pain, please visit our website to make an appointment or call 513-354-3700 to schedule an appointment.