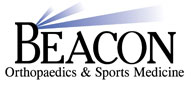 Doctors with Beacon Orthopaedics & Sports Medicine say schoolchildren's backpacks can cause harm if they get too weighed down with books and other items.
(Undated) - The term "lighten up" has come to describe how we should not get too caught up in the rules. How we should take things as they come and not overreact. All of that may allow us to live less uptight lives. But for backpacks, the health professionals recommend literally lightening up.
Do your homework
One reliable resource for school safety information is the National Safety Council which offers tips on many topics, including for the correct purchase/use of student backpacks. And the NSC says that lighter is better. Beyond that, since lighter-weight solutions like digital textbooks are becoming more widely available, there are other features to seek and things to know.
A backpack should not be wider than the child's torso or hang more than 4 inches below the waist;
Padded, adjustable shoulder straps help distribute the weight without digging into shoulders;
A padded backpack protects against contents poking into the child's back;
Chest and waist straps help distribute the content weight more evenly;
Multiple compartments also help position content weight more evenly; and
Compression straps stabilize the contents.
Be smart
Help your child determine what is necessary to carry. Everything else should be left at home, in their locker or the classroom. Take the time now to teach how to load the backpack with the heaviest items first, closest to the bottom and the center of the backpack (nearest the body when worn). Encourage him or her to use the multiple compartments to evenly distribute the load.
Use properly
The right equipment is only as good as the person using it. Don't just think of it as a "portable locker." Use it as it is intended with these easy steps:
Children should use both straps when carrying the backpack; using one strap shifts the weight to one side and causes muscle pain and posture problems.
Shoulder straps should be tightened so the backpack is fitted to the wearer's back; a dangling backpack can cause spinal misalignment and pain.
Encourage children to use the chest, waist and compression straps and to adjust them to the load, better distributing the weight more evenly.
Lift the pack by bending knees and grabbing it with both hands.
Practice makes perfect
Sometimes when we get busy, we revert to old ways. Help your child use – and keep using -- a backpack safely while he or she is young. This will make this behavior routine. So you have encouraged that future teenager's injury-avoiding behavior long before the heaviest books are required (or the inevitable eyerolls!).
Buy no more than you need
A roomy backpack may seem like a good idea, but the more space there is to fill, the more likely your child may be to fill it. Do NOT buy a "you'll grow into it" backpack. Right-size your choice for the student for this school year.
And before you buy this year's backpack, think about last year. Were you ever shocked at how much the backpack weighed? Did he or she struggle to put it on or had to bend forward just to carry it? Don't ignore these things. Dr. David Argo of Beacon Orthopaedic & Sports Medicine recommends that backpacks weigh no more than 10% of the child's weight. So, if your elementary school-aged child weighs 60 lbs., his or her backpack should always weigh less than six pounds. Preferably, much less than that. "Have your student identify a target weight that the full backpack should never exceed," says Dr. Argo. "It is a great way for them to take an active role in their own wellness."
Backpacks that are too heavy can cause injuries that result in back, neck and shoulder pain as well as poor posture. And if you have concerns, Click here to schedule an appointment today at Beacon's Lawrenceburg or Batesville office.