There was some good golf being played in Greensburg and Madison on Saturday.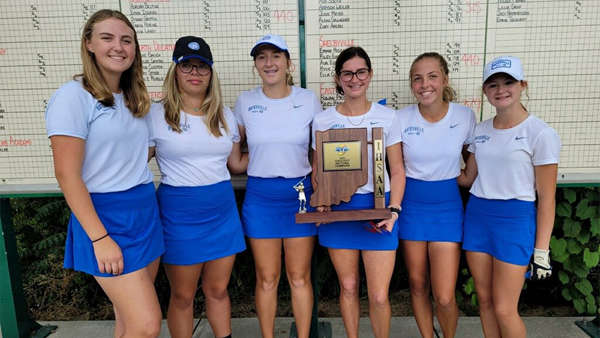 Photo by Batesville High School.
(Greensburg, Ind.) - Make it four consecutive sectional championships for Batesville's girls golf team.
The Lady Bulldogs captured the Sectional 27 Championship on Saturday at Greensburg Country Club. Batesville recorded a team score of 315, which was 27 strokes better than second place Franklin County (342).
They were led by round medalist Addyson Weiler. She shot a 5-over, 75, which was one stroke better than teammate Josie Meyer and Rowan Pies, of East Central.
Batesville, Franklin County, and East Central advance to the Regional by placing in the top three.
The top three individuals advancing without a team are Greensburg's Annie Pumphrey (93), Shelbyville's Emmie Higgins (99), and Milan's Kayla Walke (99).
At the Madison Sectional at Sunrise Golf Club, the host Lady Cubs took first place with a team score of 384. They were led by round medalist Emmi Dowell, who carded an 81.
Second place Switzerland County and third place Scottsburg will join Madison at the Regional. The top three individual advancing without a team are Shawe Memorial's Kira Wells (85) and Yolett Perez (90), Jennings County's Lauren Galvan (99).
REGIONAL BOUND!!!!!!
First time in school history! Pacers finish 2nd behind Sectional Champion Madison. The Pacers will play in the Regional next Saturday at The Legends GC in Franklin! @switzsc @jlcheek01 @VevayNewspapers @CampbellSports @Wikicountry @eagle993 pic.twitter.com/zNz9VoO23R

— Switzerland County Pacer Athletics (@GoSwitzCoPacers) September 16, 2023
Regional qualifiers from both sectionals above will compete at the Franklin Community Regional at The Legends Golf Club on Saturday, September 23 at 8:30 a.m.
See full results from both area sectionals below.
Sectional 27 at Greensburg
1) Batesville 315, 2) Franklin County 342, 3) East Central 379, 4) Greensburg 421, 5) Shelbyville 440, 6) Southwestern Shelbyville 440, 7) Milan 455, 8) North Decatur 470, 9) South Ripley 499, 10) Jac-Cen-Del 501
*Incomplete Teams: Oldenburg Academy
Batesville - Ava South (77), Addyson Weiler (75), Josie Meyer (76), Alexis Gallagher (87), Zoey Ahern (97)
Franklin County - Crystal Calihan (78), Nicole Mears (80), Lillie Graf (90), Jacy Grimmies (98), Emma Tolhurst (94)
East Central - Rowan Pies (76), Riley Havlin (101), Miriam Weber (99), Alyssa Riehle (103), Savanna Roope (104)
Milan - Kayla Walke (99), Natalie Prather (114), Chelsie Seaver (124), Grace Bedel (119), Kaitlynn Hicks (123)
South Ripley - Anna Block (117), Lily Jones (117), Emma McCarty (128), Mady Hicks (137)
Jac-Cen-Del - Julia Meyer (117), Nautia Williams (131), Claire Heilers (127), Emma Wagner (126)
Oldenburg Academy - Claire Walke (112)
Sectional 30 at Madison
1) Madison 384, 2) Switzerland County 425, 3) Scottsburg 430, 4) Jennings County 461, 5) Charlestown 462, 6) Lawrenceburg 474, 7) Southwestern 534
*Incomplete Teams: South Dearborn, Rising Sun, New Washington, Henryville
Switzerland County - Alexis Mangold (100), Bri Stow (109), Payton Stow (105), Marilynn Dalrymple (111), Makayla Bowling (122)
Lawrenceburg - Elizabeth Caudill (103), Aubrie Hutcherson (118), Cadance Fricke (116), Emily Shelton (137), Alana Hogue (141)
South Dearborn - Isabel Pearson (119)
Rising Sun - Venessa Woodruff (127), Abby Stewart (145)