East Central won last year's season opener in Lawrenceburg. Can the Tigers return the favor in St. Leon?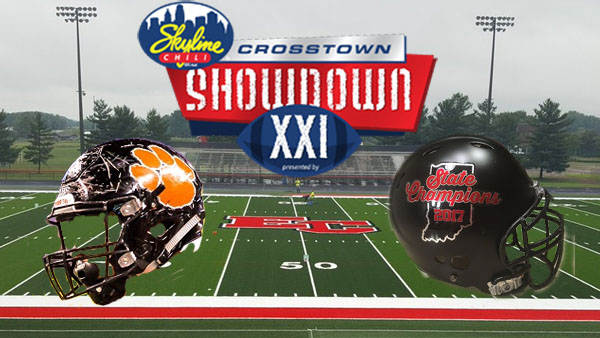 (Lawrenceburg, Ind.) – Every high school football team wants to start out the 2018 season with a win, but for Lawrenceburg they could avenge a heartbreaking loss from last season.
The Tigers (#8 in Class 3A) will travel to St. Leon tonight for an opening week matchup with the East Central Trojans (#1 in 4A). The game will be the kick-off to the Skyline Chili Crosstown Showdown that will feature 40 games this season.
Last season, the Tigers and Trojans clashed in Lawrenceburg, where East Central used a fourth quarter comeback to win 15-14.
East Central used that win to propel themselves all the way to the IHSAA Class 4A State Championship.
"It's something that you think about," said Tigers head coach Ryan Knigga. "Going back to last year I though we dominated the game, I though we played really well. But at the end of the day you have to finish the game and the only thing that people remember is the scoreboard. Give credit to East Central they fought back and found a way to make a few plays down the stretch."
HEAR COACH RYAN KNIGGA'S INTERVIEW WITH EAGLE COUNTRY 99.3'S BUBBA BO IN THE AUDIO PLAYER BELOW.
After graduating the likes of Mason Parris, Hunter Privett and Jonah Rolfes, the Tigers will look to a new crop of stars to make big plays in 2018.
The Tigers will be led offensively by wide receivers Jalen Parks and Gavin Yoon, running back Adam Burd and freshman quarterback Garrett Yoon. Lawrenceburg's offensive and defensive line will be anchored by Daulton Dixon and Ethan Parris, and the Tigers also hope to get big contributions from linebackers Jack Fette and Mason Kennedy.
If the Tigers are to win Friday night, they'll likely need to slow down Trojans senior quarterback Alex Maxwell. Last season, Maxwell ran for 989 yards, threw for 607 yards and scored 23 total touchdowns.
Other storylines include the return to the sideline for Trojans head coach Don Stonefield, who will be coaching his first game since 2009. Friday's game also marks the first game on the new artificial turf at Trojan Field.
"We're looking forward to going out there," said Knigga. "We'll play on the turf and our kids are used to that. We've practiced on it and played on it in the rain, so hopefully that's just a slight advantage for the Tigers."
You can hear all the action tonight on Eagle Country 99.3 and www.eaglecountryonline.com. Pre-game coverage begins at approximately 7:10 with kick-off scheduled for 7:30.