The Knights return four starters from a season ago, and welcome back talented forward Isaiah Jefferson, who returns to SD from Salem.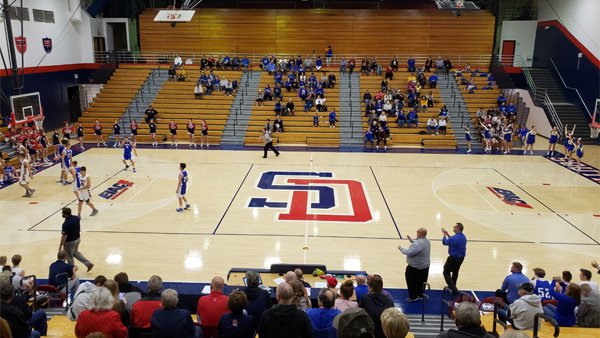 Photo by Travis Thayer, Eagle Country 99.3.
(Aurora, Ind.) - The tide could be turning in Aurora.
South Dearborn has not won a sectional championship in boys basketball since 1995.
New head coach Matthew Colston hopes to end that drought sooner rather than later, and he is inheriting a talented bunch in his first year at South Dearborn.
The Knights return four starters, including Reece Willoughby, Tobie Teke, Quintin Stevens, and Eli Hoffman, who is the Knights' top returning scorer.
"I'm really happy with our kids," said Colston. "A great bunch of kids we have here. They've really worked hard and we've been able to get a lot of stuff in and things have gone really well."
Tanner Hughes and Ryan Willoughby are expected to play key roles, as will a familiar face.
South Dearborn is welcoming back senior Isiah Jefferson after spending the last two seasons at Salem. He should provide an instant impact as a solid two-way player. As a sophomore at Salem, he was named All-County Best Offensive Player. Jefferson's length (6'4") also allows him to be disruptive on the defensive end.
"He's a really strong player and has a chance to really be one of the better players in the area," said Colston. The combination of those kids stepping up and Isaiah coming back gives us a chance at having a pretty good season."
South Dearborn is coming off an 11-14 season where they reached the sectional championship. With a new coach on the sidelines, the Knights are focused on played smart basketball to improve upon last season's record.
"We're going to go out and we're going to try to execute. We're going to try and play smart basketball. We want to play at a fast pace, but that doesn't necessarily mean we are going to take quick shots, we're going to take good shots. We're going to get up and guard ya. We are planning on doing a couple different things defensively. We are really going to hang our hat on that and moving the ball and trying to execute what we are trying to do offensively, " said Colston.
When asked about the rivalry with Lawrenceburg, Coach Colston had the following response:
"Not being from the area, it's not something that I'm necessarily all that concerned with. It's a nice little local flavor and a nice local thing that other schools have with other places too. Our main thing is, our rival and our goal is to win a sectional, and that's going to be our goal every year. Obviously, we want to do well against Lawrenceburg but we want to do well against everyone we play. Every game is as important as the next one."
South Dearborn will tip-off the 2020-21 season on Tuesday night at Rising Sun.
Eagle Country 99.3 will have full coverage beginning at 7:10 p.m.
HEAR DOUBLE T'S FULL INTERVIEW WITH HEAD COACH MATT COLSTON IN THE AUDIO PLAYER BELOW
RELATED STORIES