The former Rising Sun Lady Shiners star set two records during Monday's win against Anderson.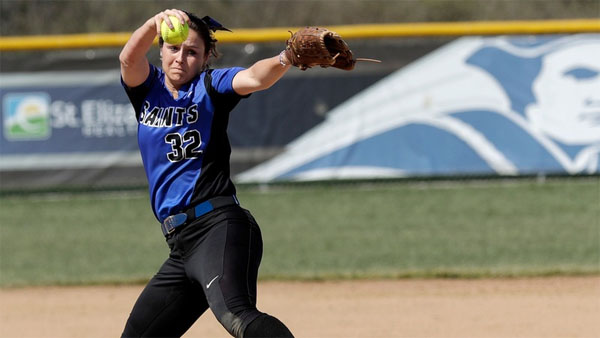 Alix DeDreu is having a record-setting season at Thomas More University. File photo.
(Crestview Hills, Ky.) – Alix DeDreu is cementing her legacy as one of, if not the greatest softball player in Thomas More University history.
During Monday's win against Anderson, DeDreu set the all-time career wins record, notching her 61st career win.
DeDreu also became Thomas More's all-time career strikeout leader with 471 strikeouts.
Last month, DeDreu recorded her 207th career hit, breaking the record that was set last year by her former teammate Laura Finke.
Since then, DeDreu has added 30 hits to her record, which now stands at 237.
For the year, the Saints star is hitting .476 with two home runs and 31 RBIs. In the pitching circle, DeDreu is 19-4 with 117 strikeouts and a 1.27 ERA.
Thomas More (27-9) has two more regular season games before beginning ACAA Tournament play on May 4.
With the win in the first game today against Anderson, @TMU_Softball senior pitcher Alix DeDreu became the leader in All-Time Career Wins with now 61 wins! #LetsGoSaints pic.twitter.com/a7QamexsYa

— Thomas More Saints (@tmusaints) April 22, 2019
In the third inning of game one today against Anderson and on @TMU_Softball Senior Day, senior pitcher Alix DeDreu became the All-Time Career Strikeouts Leader! #LetsGoSaints pic.twitter.com/xKmtRVHDme

— Thomas More Saints (@tmusaints) April 22, 2019
RELATED STORIES: