Four games in two days and a championship to boot.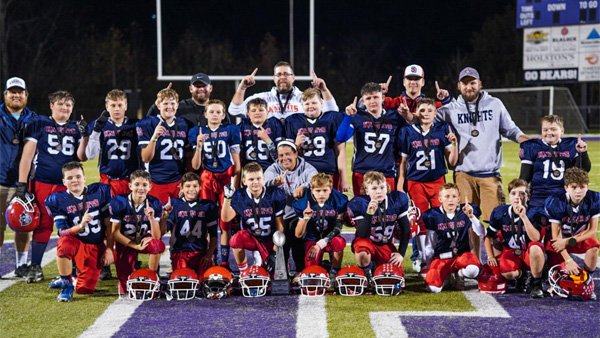 Photo provided by Kayly Jo Manlief.
(Aurora, Ind.) - The future looks bright for the South Dearborn Knights football program.
The 6th grade Knights recently traveled to Tennessee to compete in the Battle in Rocky Top National Championship.
Not only did they compete, the Knights were crowned the champion in the 11U/6th Grade United Bracket.
The Knights had to play four games in two days to take home the championship. They competed against the Franklin County Rams from Kentucky, the Avon Orioles from Indiana, and the C.B.S. Falcons from Louisiana before defeating the Zionsville Eagles (Indiana) in the championship game.
Team members include: Brooks Johnson, Brennan Berry, Willie Riley, Sam Gates, Jason Chipman, Kaleb Hicks, Jackson Johnson, Grant Langferman, Alex Welz, Hunter Miller, Jayden Montgomery, Caydin Davidson, Brison Hornberger, Zane Richardson, Mason Benham, Drake Lee, Brycen Gilbert, & Carson Vinson.
The 6th grade Knights are led by head coach Jamey Montgomery, assistant coaches Ryan Berry, Nick Davidson, and Kyle Clark, and junior assistant and current SDHS senior Jarrett Montgomery.
The team mom is Kayly Davidson.