The Trojans have a team they think can compete for a state title.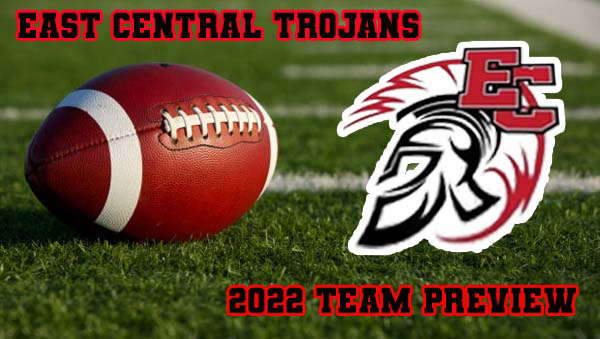 (St. Leon, Ind.) - It wouldn't be football season in St. Leon without high expectations.
The East Central Trojans went 10-3 a season ago and completed "Mission 20" by winning their 20th sectional title in program history.
The sectional title marked the first for head coach Jake Meiners, who is entering his fourth season at East Central. But the Trojans have their sights set higher in 2022 after a heartbreaking 17-14 loss to Evansville Memorial in last year's regional game.
"The way last year ended, we were very happy to win a sectional, to get back to where East Central should be, winning sectionals and competing for a state championship," said Meiners. "But I think the way we lost the regional game on a last-second field goal has kind of stuck with a lot of these guys, stuck with myself throughout this offseason, so there has been some intensity when we've gotten going this year as far as we want to get back there, and we want to push further than that regional final. That's really been our focus."
East Central put in new offensive and defensive schemes a year ago. The offense was dynamic, averaging 38.7 points per game behind first year starting quarterback Cole Burton (1,749 yards, 19 TD, 4 INT) and a host of explosive skill players. Wideout Eli Aston was named to the IFCA Class 4A Junior All-State Team. Aston totaled 1,626 all-purpose yards and 16 touchdowns including kick and punt returns. Of his nine touchdown receptions, eight came on plays of 30-yards or more. Also returning for the Trojans is running backs Josh Ringer and Trae Ohmer and RB/WR Ryan Brotherton - a trio combined to rush for 1,892 yards and 23 touchdowns.
"We have so much depth over on the offensive side, especially at skill positions," said Burton. "They're all spectacular athletes. You get the ball to anyone with room they are going to make a play, make something happen."
On the offensive line, the Trojans will have to replace four starters from a year ago, including All-State left tackle and Rose Hulman commit Casey McQueen.
The lone returning starter is junior Noah Schneider. From there, Coach Meiners says there are six or seven guys in the mix to fill the remaining four spots.
"They don't necessarily have the experience, so we're going to have some growing pains early within that group, but I'm very high on that group and think that they have a lot of talent. It's just a matter of getting some game experience," said Meiners.
Defensively, the Trojans will have some new faces stepping into starting roles this season, particularly on the defensive line and in the secondary.
Coach Meiners expects Louis Gray and Kingston Cook to be key contributors on the defensive line. In the secondary, six or seven players are competing for four starting spots, including Jeremy Proctor, Andrew Roy, Chase Bellman, Jace Dorsey, and Carson Koelling.
"The cool part as a coach is, I feel pretty confident in all six or seven guys we have out there. So, you are going to see a lot of rotation, especially early. When these guys earn their spots, they truly earn their spots because they are competing with other players that are talented football players as well," said Meiners.
Perhaps, the strength of the Trojans' defense will be the linebacking core. Back are starters Conner Kuhn, Adam Rosemeyer, and Dylan Maxwell, along with captain Rhett Smith, and Brayden Rouse.
"We saw flashes of it last year and going into this year is just the athletic ability of our defense to be able to utilize their speed and aggression. You line us up, we aren't going to be the biggest defense across the board, but to use our athletic ability we have to be one of the faster teams out there," said Meiners.
Some of the key returning players include:
QB Cole Burton (Jr.) - 107-175 (61%), 1,749 yards, 19 TD, 4 INT; 47 carries, 162 yards, 6 TD
RB Josh Ringer (Jr.) - 114 carries, 678 yards, 7 TD; 11 receptions, 176 yards
RB Trae Ohmer (Sr.) - 89 carries, 595 yards, 8 TD
RB/WR Ryan Brotherton (Jr.) - 73 carries, 619 yards, 8 TD; 23 receptions, 452 yards, 6 TD
WR Eli Aston (Sr.) - 44 receptions, 752 yards, 9 TD
OL Noah Schneider (Jr.) - recently set the school's bench press record at 365 lbs.
DL Louis Gray (Sr.) - 66 tackles, 4 TFL,
LB Conner Kuhn (Jr.) - 58 tackles, 4 TFL, 2 sacks, INT
LB Adam Rosemeyer (Sr.) - 56 tackles, 6 TFL, 2 sacks, INT
LB Rhett Smith (Sr.) - 24 tackles, 6 TFL
LB Dylan Maxwell (Jr.) - 27 tackles, 3 TFL
Other potential standout players include DL Kingston Cook, DL Eli Ertel, CB Andrew Roy, S Jeremy Proctor, DB Carson Koelling, WR Cole Wheat, TE Joey Herth, LB Brayden Rouse, RB Ryan Stenger, WR Robbie Bleh, OL RJ Seig, OL Patrick Schneider, S Chase Bellman, S Jace Dorsey.
East Central will again test themselves in the regular season with non-EIAC schools such as Harrison, Moeller, Guerin Catholic and Indianapolis Roncalli appearing on the schedule.
"This is year two of I think the toughest schedule East Central's played just in terms of our non-conference opponents, our conference opponents getting better, and other teams continuing to get better. We really have to challenge ourselves to get better each and every week and that's what we want. If we talk about these aspirations and these goals to push deeper in the playoffs, we have to really play quality opponents every week," said Meiners.
The sectional will look a little different for East Central this year. Bedford North Lawrence, Edgewood and Shelbyville replace Madison, Mooresville and South Dearborn.
The Trojans are seeking back-to-back sectional titles for the first time since 2017-18. The hope in St. Leon is this year's team can replicate the state championship run in 2017.
"We are definitely capable of competing for a state championship. What we learned in 2015 and 2017 is a lot of things have to go your way for that to happen. We hope that those things obviously do go our way. What we have to focus on is putting ourselves in the best position possible in order to win games. That's kind of our focus is to just be the best team we can be each and every Friday night and see where this thing takes us," said Meiners.
Crunch Time Featuring the East Central Trojans: Crunch Time - July 25, 2022 - Crunch Time - Eagle Country 99.3 (eaglecountryonline.com)
2022 Schedule
August 19 - vs. Lawrenceburg - 7:30 PM
August 26 - at Harrison - 7 PM
September 2 - at Cincinnati Moeller - 7 PM
September 9 - vs. Franklin County - 7:30 PM
September 16 - vs Batesville - 7:30 PM
September 23 - at South Dearborn - 7 PM
September 30 - at Connersville - 7 PM
October 7 - vs. Guerin Catholic - 7:30 PM
October 14 - vs. Indianapolis Roncalli - 7:30 PM