With a drop to Class 3A, South Dearborn's championship aspirations run through a new group of conference and sectional foes.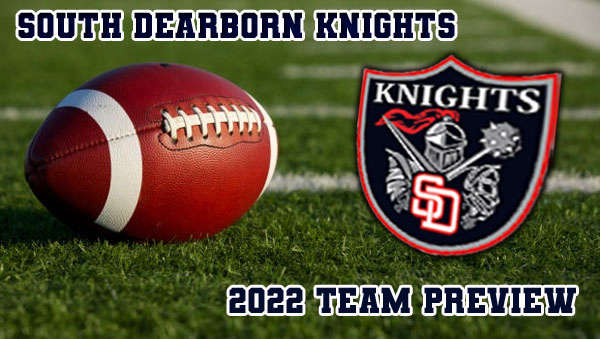 (Aurora, Ind.) - A lot can change in a year.
For South Dearborn, they have graduated 17 seniors, replaced their defensive coordinator, hired a new offensive coordinator, and dropped from Class 4A to Class 3A due to enrollment.
The drop to Class 3A comes with conference and sectional realignment, which has South Dearborn thinking big in terms of what they can accomplish in 2022 - after finishing 7-4 a year ago.
"We were pretty happy with what happened last year," said Head Coach Rand Ballart. "We felt like we let a couple get by, early on in the year we dropped that one to Madison. We came back and tried to show that was a fluke with a pretty big opening round victory down there. So, that was a game we think we should have got back. Overall, last year we felt pretty good."
South Dearborn has had a strong offseason that has included 7-on-7 competitions at Ball State University and the Mooresville Shootout, where the Knights reached the semifinals. In addition, the Knights recently completed team camp at Taylor University.
"We've had a really good offseason," said Ballart. "The participation has been incredible. We've averaged between 55 and 60 every practice."
Other summer festivities included watching running back CJ Rogers compete at the Indiana All-Star Classic. Rogers was the leading rusher in the game, carrying the ball four times for 71 yards. Rogers was a key player for South Dearborn last season, rushing for 1,438 yards and 25 touchdowns. His 326-yard performance against Connersville set the South Dearborn single-game rushing record.
With his graduation, another CJ is ready to step into the starting role. CJ Evans, a junior, is South Dearborn's top returning rusher with 214 yards (7.9 YPC).
The Knights will also be replacing starting wideouts Reese Willoughby and Isaiah Otto, tight end Justin McGraw and offensive linemen Evan Meek, Andrew Kemper and Alex Kemper.
"It's hard to replace some of those guys on the offensive side of the ball but we have some young guys that are looking to step up and we're excited to see what happens," said Ballart. "We've got some really solid skill guys. We feel if we can just get the ball in their hands, we feel pretty good about it."
Former offensive coordinator Kenny Higgins is now the tight end and head JV coach. John LeMasters will serve as the new offensive coordinator.
"I think you are going to see a very different style of football on the offensive side that you have seen from South Dearborn in a while," said Ballart. "We're excited about that, a lot of uptempo. I think we will be fun to watch."
Cody Smith comes in as the new defensive coordinator, replacing Jonathan Kraft who recently moved to Virginia. Smith played and coached at college level. Another welcome addition to the defensive coaching staff is former Connersville head coach Justin Jackson.
The Knights' top three tacklers (Sean Sohmer, Landon Herzner, Drew Probst) from a season ago have graduated, so there will be opportunity for some fresh faces to make an impact with only four starters returning on the defensive side of the ball.
"We're going to fly around a lot. We're not very big, but we feel like we have a lot of speed," said Ballart.
Some key returning players include:
QB Adam Kunkel (Jr.) - 86-156 (55%), 1,226, 14 TD, 4 INT; 5 rushing TD
RB CJ Evans (Jr.) - 27 carries, 214 yards, 7.9 YPC, TD
WR Austin Ballart (Sr.) - 23 receptions, 383 yards, 4 TD
S Ryan Willoughby (Sr.) - 40 tackles, 3 TFL, 5 INT
DT Ashton Kittle (Sr.) - 20 tackles, 3 TFL, 2 sacks
S Corbin Cassidy (Sr.) - 24 tackles, 2 INT
TE Brady Roberts
TE Braiden Foist
LB/OL Brayden Johnson - 30 tackles, 2 TFL
DE Adam Gainor
C Ben Rains - Returning starter
OG Blake Pruss - Returning starter
CB Blake Lagaly - 18 tackles,
Other potential standouts: DE Logan Thies, WR Reid Thornton, WR Jake Daugherty, TE/LB Brady Ballart, WR Oli Babcock, WR Hudson Shackelford, OL Mahlon Bressert, OL Trevor Jackson, OL Jacob Purcell, LB Kadence Taylor, LB Dylon Wynn, CB Dylan Leffler
South Dearborn is seeking their first back-to-back winning seasons since 2003-04. With a winning season "other things come," said Ballart.
Those other things to come could be an EIAC championship and/or a sectional title. This season, the EIAC has been realigned which means South Dearborn will compete with Batesville, Greensburg and Rushville for a conference title.
The sectional will also look different for South Dearborn with a move to Class 3A. The Knights will compete in Sectional 31 with Batesville, Centerville, Franklin County, Greensburg, Indian Creek, Lawrenceburg and Rushville.
"We are excited about those opportunities and obviously there's no guarantee anywhere, but we feel good about our opportunities, and we feel good about our chances," said Ballart.
This current crop of South Dearborn Knights hopes to accomplish what no other team in school history has done, and that is win a sectional championship.
"It would be incredible for these young men. They have set out to accomplish that goal and every year that's your goal, to not only have a winning season but win conference and get that first sectional," said Ballart.
South Dearborn opens up their 2022 season at home on Friday, August 19 against Jennings County.
Crunch Time featuring the South Dearborn Knights: Crunch Time - August 1, 2022 - Crunch Time - Eagle Country 99.3 (eaglecountryonline.com)
RELATED: IHSAA Releases New Sectional Groupings in Six Sports
2022 Schedule
August 19 - vs. Jennings County - 7 PM
August 26 - at Madison - 7 PM
September 2 - at Batesville - 7 PM
September 9 - at Connersville - 7 PM
September 16 - vs. Greensburg - 7 PM
September 23 - vs. East Central - 7 PM
September 30 - at Franklin County - 7 PM
October 7 - at Rushville - 7 PM
October 14 - vs. Lawrenceburg - 7 PM