The Trojans have their sights set on winning the sectional championship, and making a deep postseason run.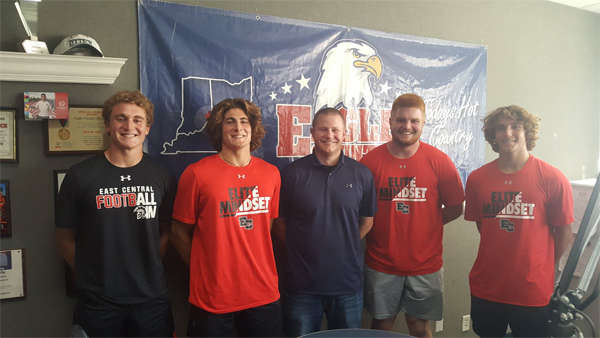 (Left to right): Nate Buesing, Sam Ringer, Casey McQueen and Cooper Hoog join Double T (middle) on Crunch Time.
(St. Leon, Ind.) - The expectation in St. Leon is to win championships.
The Trojans have done that at the conference level for several years in a row, but the sectional championship has alluded the Trojans the past two seasons.
Since Jake Meiners took over the program in 2019, East Central has gone 19-4 overall (8-3 in 2020) with two of those losses coming to Mooresville, one in the sectional championship in 2019 and another in the sectional semifinals in 2020.
"You can't talk about the 2020 season without talking about the COVID restrictions and what a tough deal that was for all these guys and for all of our players. We battled contact tracing and injuries just everyone else," said Meiners. "The big thing for us was we were able to play every single game. Our guys did a great job of following all the protocols and we were still able to go out on the football field and put on a performance that I think would make our community proud. 8-3 honestly that is probably a disappointment for a lot of our guys within our program because we are not used to losing, we don't like losing. Overall, I think we had a very successful season. We wanted to beat Mooresville, obviously, and try to make a deep run in the playoffs, but I think that has kind of spurred us for this year to have something to talk about and being on a mission to win a sectional championship."
The objective of the 2021 season has been made clear by Coach Meiners, and that is winning the 20th sectional championship in program history.
"We keep talking about Mission 20 and being able to go on a mission to win that 20th sectional championship. It would have been nice to have won it in 2020 because all the numbers would have lined up. We'd like to get back to those winning ways and bring home sectional championships."
RELATED: Crunch Time featuring East Central Football
In order to get back to those winning ways, East Central will have a lot of new names starring at key positions as the team lost 29 seniors to graduation in the spring.
Key Losses:
Luke Collinsworth (LT): Entering freshman season at the University of Cincinnati
Nathan Griffin (LB/TE): 61 tackles, 7 TFL, 4 sacks, INT, FR; Entering freshman season at Western Kentucky University
Kole Viel (LB): 59 tackles, 12 TFL, 3 sacks, INT; Entering freshman season at University of Indianapolis
Ryan Bond (QB): 54-117, 586 yards, 3 TDs, 3 INTs
Jake Fike (RB): 30 carries, 110 yards, TD (missed time due to injury); Entering freshman season at Marian University
Erik Perkins (RB/CB): 40 carries, 222 yards
Tyler Dickerson (LG)
Austin Cox (C)
Top Returners:
Hunter Sohns (Sr., RB/LB): 106 carries, 557 yards, 6 TDs
Josh Ringer (So., RB): 78 carries, 714 yards, 9 TDs
Casey McQueen (OL)
Noah Houser (OL)
Nate Buesing (WR): 19 receptions, 173 yards, TD
Sam Ringer (ATH)
Ryan Bovard (DT):
Cooper Hoog (CB)
Charlie Euson (S):
Sophie Browndyke (Sr., K): 40-48 PATs, 3-4 FG, Longest was 36-yards.
Potential Breakout Stars: Carson Koelling (QB/ATH), Cole Burton (QB/ATH), Blake Gindling (TE), Lucas Adams (OL), Luke Vogelgesang (OL), Kadin Fagin (OL), Louis Gray (DL), Ethan Greiwe (DL), Andrew Roy (DB), Ryan Brotherton (WR), Jace Dorsey (DB), David Nash (LB), Rhett Smith (LB), Adam Rosemeyer (LB), Eli Aston (WR), Noah Schneider (OL), Conner Kuhn (LB).
Coach Meiners says junior Carson Koelling and sophomore Cole Burton are battling to start at QB.
"They both are right there, they both do special things for us on the football field, so really we could go in with either one and have a whole lot of confidence on a Friday night," said Meiners. "They are both quality football players and quality young men."
Regardless of who wins the job, both Koelling and Burton figure to play themselves into a significant role.
The run game is expected to be a strength of the team yet again in 2021 (245 rush yards per game in 2020). The Trojans return their top two rushers in sophomore Josh Ringer and senior Hunter Sohns. Trae Ohmer and Brayden Rouse will provide depth in the backfield.
Ringer turned some heads as a freshman with 714 yards and nine touchdowns. His older brother, Sam, says Josh has put on nearly 35 pounds this offseason, growing from 160 pounds to almost 195 pounds - perhaps outgrowing his "Baby J" nickname.
While the Trojans don't pass the ball much, Nate Buesing, Jack Rinear, Ryan Brotherton, and Blake Gindling will provide solid targets down the field for whomever wins the starting QB role.
The offensive line will be led by three-year starter Casey McQueen, and fellow seniors Noah Hauser, Lucas Adams, Luke Vogelgesang, and sophomore Noah Schneider.
"Our program is pretty unique in the fact that the one position guys kind of wait their turn is offensive line," said Meiners. "We are pretty happy up front with where we are at. Obviously we lost a good group last year, but we feel pretty good about this group coming in this year."
Defensively, the Trojans allowed only 11 points per game in 2020. Gone are star linebackers Kole Viel and Nathan Griffin, along with three starters on the defensive line.
Still, there is plenty of talent returning, including a strong defensive secondary with Cooper Hoog, Sam Ringer, Charlie Euson, and Andrew Roy.
Hunter Sohns is back at linebacker. Some new faces will surround him with six to eight guys battling for four spots at linebacker, according to Coach Meiners.
Ryan Bovard is the top returning tackler on the defensive line. He is expected to be joined in the trenches by Ethan Greiwe and Louis Gray, among others.
As for special teams, East Central returns one of the best kickers in the region. Sophie Browndyke went 40-48 on PATs and connected on 3-4 FG attempts in 2020.
"We have been very blessed between Caden and Sophie, and even years before that with field goal kickers," said Meiners. "When Sophie decided to come out and kick for us, she has gotten better each and every year. When her number is called, she is ready to go."
East Central will kickoff the 2021 season on Friday, August 20 at Lawrenceburg. Eagle Country 99.3 will have full coverage beginning at 6:40 p.m.
2021 Schedule
Friday, August 20 – at Lawrenceburg – 7:00 PM
Friday, August 27 – vs. Harrison (Oh.) – 7:30 PM
Friday, September 3 – vs. Cincinnati Moeller – 7:30 PM
Friday, September 10 – at Franklin County – 7:00 PM
Friday, September 17 – at Batesville – 7:00 PM
Friday, September 24 – vs. South Dearborn – 7:30 PM
Friday, October 1 – vs. Connersville – 7:30 PM
Friday, October 8 – at Guerin Catholic – 7:30 PM
Friday, October 15 – at Indianapolis Roncalli – 7:00 PM