The national organization's bicycle rides for disabled veterans help them cope with injuries visible and invisible.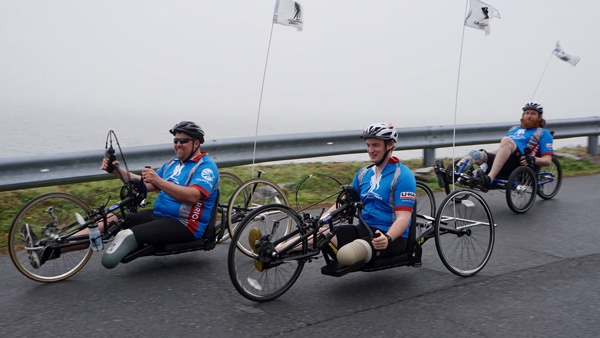 (Lawrenceburg, Ind.) - Wounded military veterans will pedal through Dearborn and Ohio counties this week using bicycles specially fitted to their physical needs.
The Wounded Warrior Project's Soldier Ride Cincinnati has more than 40 veterans cycling through the area using adaptive cycling equipment. According to the project, the educational multi-day bicycling program enhances warriors' fitness routines and aid their physical and mental recovery.
Almost 1,000 riders have participated in more than 30 Soldier Ride events nationwide this year, helping them cope with stress, emotional concerns, and injuries visible and invisible.
This week, they will pedal through Lawrenceburg, Aurora and Rising Sun.
Bike fitting to accommodate the veterans' injuries will be held Wednesday, August 7 from 10:00 a.m. until 2:00 p.m. at the Doubletree by Hilton hotel on the riverfront in Lawrenceburg.
On Thursday, August 8, the warriors will bike from Aurora to Rising Sun. The 10.1-mile ride will start at Waterways Park, 351 Moore Street, in Aurora at 9:00 a.m. They will stop for a break at Little Farm on the River RV Park before continuing to Rising Sun, ending at the city park at 201 Maiden Lane around 11:00 a.m.
Then on Friday, August 9, the wounded warriors will cycle 15.6 miles from Lawrenceburg to Aurora. Lawrenceburg's mayor will welcome them at 8:00 a.m. outside the Doubletree by Hilton. They will arrive for a water stop at Aurora's Lesko Park at approximately 10:00 a.m. before heading back to end the round-trip ride in Lawrenceburg.
The Wounded Warrior Project surveyed those it serves in 2018, finding that 52.6 percent of survey respondents expressed they talk with fellow veterans to address their mental health concerns – the second most cited helpful resource or tool. In the same study, 32.6 percent also reported physical activity as one of the things that helps them cope with stress and emotional concerns.