The winners will be announced Sunday during the Christmas Tree Lighting at Civic Park.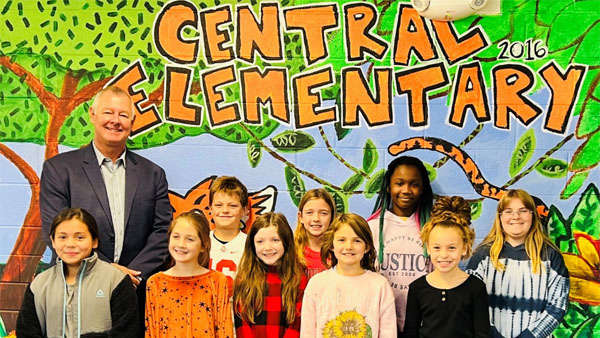 Photo provided.
(Lawrenceburg, Ind.) - Mayor Kelly Mollaun visited Central Elementary School today to meet with the 3rd, 4th and 5th grade finalists in the Winter Wonderland Christmas Essay Contest. The Christmas Essay topic asked students "How do you share the Christmas Spirit with others?" Having read all 300+ Christmas Essays, Mayor Mollaun stated overall the essays submitted this year were very positive and quite enjoyable to read.
The Christmas Essay Contest is sponsored each year by the City of Lawrenceburg. Three winners will be selected in each grade and will receive their winning essay custom framed along with a Gift Card as follows: 1st Place $100, 2nd Place $50, 3rd Place $25.
Congratulations to the following 2022 Winter Wonderland Christmas Essay Finalists:
(In no particular order ~ 1st, 2nd & 3rd place announced November 27th)
3rd Grade: Maisey Lightner, Ava Spreen and Lily Kearns
4th Grade: Brylee Haring, Kori Sean Marie Thomas and Kylie Powell
5th Grade: Isabella Jones, Vance Lucas Barkhiemer and Olivia Dietrich
The winning essays will be announced at the City of Lawrenceburg's Annual Mayors Reception and Christmas Tree Lighting on Sunday, November 27. We invite you and your family to join Mayor Kelly Mollaun, City Council, the City of Lawrenceburg and Lawrenceburg Main Street as we officially kick off the holiday season!
LAWRENCEBURG EVENT CENTER
5:30PM - Cincinnati Brass Band, Hors D'oeuvres & Drinks Station, Lawrenceburg Main Street Ornaments Available, Preview Central Elementary School Christmas Essays
6:45 PM - Transition to Lawrenceburg Civic Park
LAWRENCEBURG CIVIC PARK
7:00 PM - Mayors Welcome, Lighting of the Christmas Tree & Holiday Lights Display, Christmas Essay Winners Announced, Hot Chocolate, Sugar Cookies & Ornament Giveaways
7:15 PM - Tiger Pizazz and Christmas Caroling