The parade has been postponed until Monday due to rain in the forecast Friday.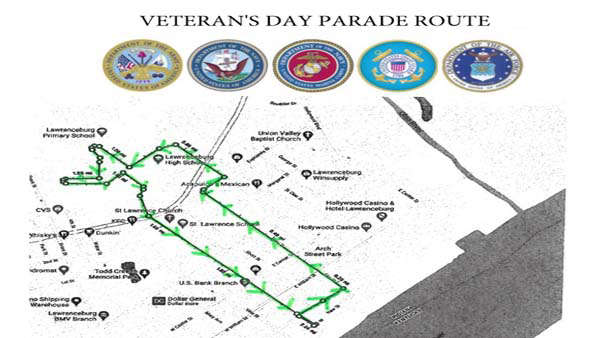 UPDATE: The Veterans Day Parade has been postponed due to rain in the forecast tomorrow. The parade will now be Monday, November 14. Times and locations listed below will remain the same.
(Lawrenceburg, Ind.) - Lawrenceburg Community School Corporation will be hosting a Veterans Day Parade on November 11 at 9:30 AM.
All veterans are invited to participate in the parade.
Veterans will line up at Ivy Tech in downtown Lawrenceburg starting at 9:00 AM. The staging area is located at the Ivy Tech Parking Garage entrance on New St. All veterans need to arrive at the staging area before the Veterans Day Parade starts at 9:30 AM.
At 10:00 AM in front of the Dearborn County Courthouse, the Vietnam Veterans organization will coordinate a Veterans Ceremony that all are welcome to attend.