The Indiana Small Business PPE Marketplace will be a reliable resource to help small businesses across the state obtain PPE.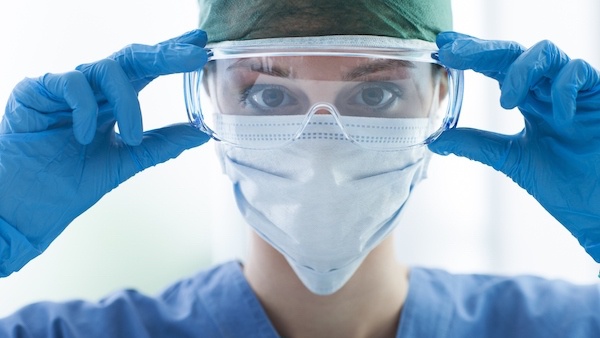 Update posted Friday, May 8, 2:08 p.m.:
The Indiana Small Business PPE Marketplace website is now active.
Visit www.backontrack.in.gov/ppemarketplace.htm for information on how your small business can get PPE.
Original story published Wednesday, May 6, 6:22 a.m.:
(Indianapolis, Ind.) - On Friday, Indiana Governor Eric Holcomb announced a new marketplace for personal protective equipment (PPE).
The Indiana Small Business PPE Marketplace will guarantee reliable access to PPE for Hoosier small businesses and nonprofits lacking the resources needed to follow the safe workplace guidelines during Gov. Holcomb's "Back on Track" plan.
This resource will serve the small businesses that will be returning to work in the upcoming weeks.
The Marketplace website is not currently active, however; the Indiana Economic Development Corporation (IEDC) expects the launch to be this week.
"As we look toward a safe and responsible reopening across the state, we're working to remove barriers for entrepreneurs and small business owners that could limit or delay progress," Gov. Holcomb said. "The Indiana Small Business PPE Marketplace is another tool that will help support small businesses during this unprecedented time, ensuring they are able to continue operating while providing needed safety measures to protect workers and customers alike."
Developed by the IEDC and the Indiana Small Business Development Center and the Indiana Office of Technology, this marketplace will leverage PPE that is being manufactured and sourced by Indiana businesses in Indiana to support supplies.
In order to be eligible to utilize the Marketplace, an organization must:
Be a business or nonprofit organization registered to do business in Indiana with the Indiana Secretary of State;
Employ less than 150 associates; and
Be identified in the reopening plan as an entity that must use PPE as a condition of operating in order to comply with safe workplace requirements.
Businesses and nonprofits are encouraged to obtain PPE on their own before using the Marketplace. This service aims to be an "alternate backstop" for employers.
Due to an increasing demand across the world, Indiana cannot guarantee the stability of the PPE supply chain. The state will make every effort to provide needed supplies.
Requests will be evaluated and fulfilled based on work environment risk profile, stock availability, and the number of outstanding requests. Partial or delayed requests may occur at times.
The Indiana Small Business PPE Marketplace is just another step the IEDC has made to help those across the state, which includes, securing PPE for the state's hospitals, first responders, long-term care facilities and healthcare providers treating COVID-19 patients.
Thus far, Indiana has secured commitments for more than 7.84 million pieces of PPE, which is up from 6.3 million reported last week. More than 2 million items have already been delivered to the Indiana State Department of Health for distribution.

According to the U.S. Small Business Administration, the Hoosier state houses approximately 104,335 small businesses that employs 941,578 across the state.
To learn more about COVID-19 resources and no-cost counseling available to Indiana entrepreneurs and small businesses, visit isbdc.org/indianacovid19smallbusiness.