The November 18 City Council Meeting focused on finalizing payments and moving forward with approving claims from past meetings.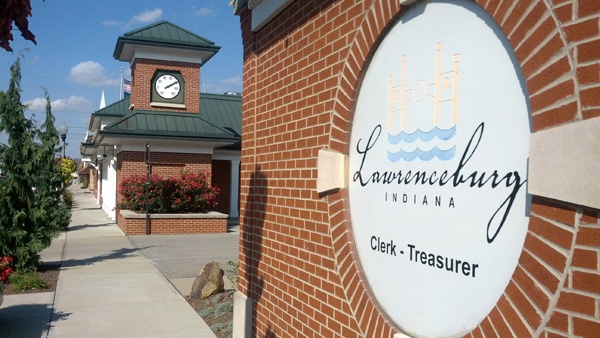 (Lawrenceburg, Ind.) - Issues from past meetings have been resurfacing regarding utility payments and claim packets.
November 4th Claim Packet
A Claim Packet that was tabled at the last City Council meeting was brought back up to be approved by the Board of Works.
Paul Seymour Jr. motioned to approve the November 4 Claim Packet, excluding the $20,063.57 payment to City Attorney Del Weldon. This payment is in regards to the Utility Pole discussed in previous meetings.
"I don't like a person that knows nothing about construction holding a payment to the utility and keeping us from investing that money in our fiber." Seymour continues by saying, "I want him to get a feeling of what it's like to not be paid."
Tony Abbott voiced his opinion that it was unfair to have a conversation regarding individuals who were not able to defend themselves.
With only two BOW members present, Clerk-Treasurer Richard Richardson, explained that without a decision being made during the meeting, people will continue to not be paid. It was made aware that the council had already approved what they could, and it would be finalized with Paul Seymour Jr. and Allen "Mooch" Callaway.
The motion made by Seymour was passed by Callaway.
Richardson added in the final moments of the Claim Packet approval to make sure that the BOW had the power to exclude attorney fees without City Council approval.
Doug Garner agreed to look into this case and to bring an answer to the members.
Mayor Kelly Mollaun responded to this incident by saying he is the one that does not want to pay the $1 million bill.
"Paul Seymour making the statement that he wanted to pay all the claims expect Del Weldon's has nothing to do with this bill. I'm the one that refused to appropriate the money. Del Weldon didn't. They can say what they want, but Del Weldon reports to me," Mollaun explains. "Whatever Del Weldon does, I'm held accountable for, and at the end of the day I am responsible."
Del Weldon has no comment at this time.
Utility Payments and Fiber Updates
The City of Lawrenceburg and Lawrenceburg Municipal Utilities continued the conversation regarding bringing Fiber Optic Internet to the city.
An update of bringing fiber to the city was presented by Moosh , which was requested by Paul Seymour Jr. This was given to show the city what the options are going forward.
LMU's Mujtaba "Moosh" Ansari gave information on cost, areas of placement, and specific details on how the project would be handled by the city versus an outside contractor.
Ansari tells the city that 7 miles of underground construction, 6 miles of overhead construction, several splicing enclosures, and ATC's could finish Lawrenceburg by city personnel in 2-3 months, if granted funding. Funding could be found through municipal bonds and mutual development funds.
If funding cannot be found, the projects would be extended to take anywhere from 12-18 months to complete.
Construction by the LMU started on November 13, and Riviera is expected to done by the end of December.
Anticipated Annual Income was added information that LMU originally did not have.
While giving the presentation, Olin Clawson added that the numbers given were quite conservative because of the overwhelming support from the community. At a previous meeting, Ansari was given feedback saying that a majority of people would want the service.
Based on an under 50% take rate with a majority of customers signing up for a 100 Mbps service, $81,460 would be made. Including those "conservative" numbers, the cost would be paid off within 3 years.
Ansari tells the council that if the LMU does not receive assistance, only areas that are seen as most profitable will be given fiber. Areas such as low income housing and subsidized apartments would be finished last, whereas areas with a guaranteed payback would be started first.
Tony Abbott wanted to know why this presentation differs from the original plan of getting fiber to low-income areas to benefit those families.
"When we make plans to invest, I don't know how you feel about your business, but if somebody withholds a $1 million of payment to your business, I think you might talk about it," Clawson says. "We are a business. We operate like a business. When we aren't paid it effects how we operate as a business."
This opened up the discussion funding and payments by the City of Lawrenceburg.
Abbott wanted to make it clear that if he wants to talk about these people [Mayor Kelly Mollaun and Del Weldon] that he needs to wait for them to explain themselves.
Collection rates were brought up, to which Ansari explained that the main client they have problems with is the city of Lawrenceburg.
Clawson accused the city of not making a payment since the service was started in August.
LMU requested a meeting with Mayor Kelly Mollaun's administration last week while the Mayor is out due to knee surgery.
Brittany Doller, Clerk-Treasure Accountant, gave some context as to why these payments have not been made. She says that the co-location bill ($1,200/month) was not known about and Mayor Mollaun was waiting on a written contract to sign regarding the 4 months of fiber bills. It was said that Mollaun wanted to be sure that they were being charged the correct amount.
Clawson responded back by saying that 10x the capacity of service is being provided by LMU for a cheaper price, and the bills will not be able to be cut.
LMU claims that these agreements were sent 3-4 months ago, and the reason that they cannot shut the service off is that it would dramatically effect police cameras and various issues that cannot be shut down. Olin claims that LMU has been paying for the cities bills.
A solutions that Clawson suggests would be that an appropriation be started so that important buildings like the police and fire departments be hooked up, which would help with funding.
When Eagle Country requested a comment from Mayor Kelly Mollaun, he wanted to make sure that his side of the story was heard.
Mollaun says that he questions every claim that comes across his desk, regardless if it is for $1.50 or $150,000.
"My job is make sure that we are being good stewards of the city's money. This whole ordeal with the fiber stems from a long time ago. Everybody knew my stance from the very beginning. My stance has not changed. I don't agree with paying the bill because number one, I didn't know what we were paying," he says. "At the end of the day, I'm held accountable for what comes and goes out of this city."
The mayor feels that it is the Utility Director should report up to the mayor, to get rid of the disconnect that we are clearly seeing.
Mayor Mollaun stands behind every decision he has made to question a Olin Clawson bill. He continues by offering the example of the Utility Pole bill. "The bill which started out at $1.3 million and as I questioned and held my ground, now he just wants us to pay for the equipment. That makes me wonder even more, every time I get a bill from LMU if I'm being charged correctly or not."
"We [Lawrenceburg] pays our bills," Mayor Mollaun responded. "Once again. we're getting charged for a bill, we don't even have fiber service up to a number of our facilities. So why are we getting charged for fiber when it's not even hooked to 3 or 4 of our facilities. The original premise of this whole fiber project was it was a partnership between LMU and the city, well obviously you can see where that partnership has dwindled."
This project was supposed to make sure that every city asset had fiber ran to it. They city is still waiting on 2 assets that fiber was agreed to be run to, which includes the boat docks and Edinburg Senior housing.
The mayor wanted to make sure that community knows that he is making sure the city's money is being spent carefully and correctly.
You can find the LMU 'Fiber to the Homes Update' PowerPoint here.
RELATED STORIES:
Lawrenceburg Council Yet To Approve City Claims
UPDATE: Lawrenceburg City Council Settles $1 Million LMU Payment