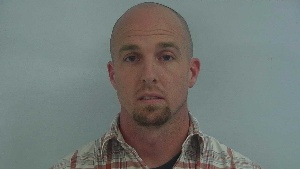 Cash bond set at $3500 for 36-year-old Chad Pindell of Napoleon. Trial dates are set for this summer.
VERSAILLES - Following his arrest late Sunday night, Chad Pindell made his first appearance inside a Ripley County court after being charged with one count of Child Seduction and one count of Dissemination of Harmful Material to a Minor after allegations arose about Pindell, a former volunteer assistant girls basketball coach at Jac-Cen-Del High School, engaging in sexual activity with a 17-year-old player on the team.
Pindell's cash bond was set by the court at $3500 with a pre-trial conference set for June 25. A three-day jury trial will begin on August 14. He will be represented by current attorney and former Indiana House of Representative member Jud McMillin out of Brookville.
According to reports, court documents reveal that Pindell, 36, allegedly sent pictures of his genitalia to the female player and also engaged in oral sex on the girl between the dates of December 1, 2017 and February 12, 2018. Ripley County Prosecutor Richard Hertel believes the act took place in either a locker room or office at the high school and that inappropriate text messages and pictures were sent between the coach and player as well.
Pindell resigned from his teaching position at Jac-Cen-Del in August of 2017 after taking a ministry position at a church in Batesville. He had been a volunteer coach at Jac-Cen-Del for around 10 years.
He is also a Ripley County Councilman representing District 3. Ripley County Republican Party chairwoman Ginger Bradford said Wednesday that Pindell has not shared any indication of whether he plans to resign from office, or give up his bid for re-election this year.
It is too late for Pindell's name not to appear on the May 8 Republican primary election ballot in Ripley County, Bradford said, as the ballots have already been printed.
If Pindell does resign before the election, a Republican party caucus would select a person to run for the party's nomination.
Pindell could opt not to resign from county council, in which case he would remain in office through the end of 2018. According to Bradford, he could only be forcibly removed from office if he is convicted of the crime. As the GOP chairwoman, Bradford would be tasked with selecting Pindell's replacement.
Bradford declined to comment on the allegations against Pindell.