More than 100 cases have been reported statewide.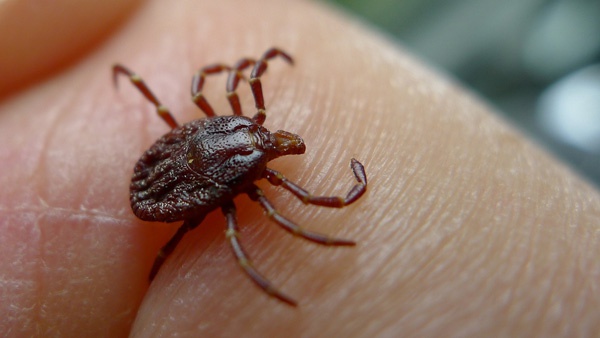 (Lawrenceburg, Ind.) – State health officials are urging Hoosiers to protect themselves from ticks as cases of tick-borne disease continue to rise in the state.
The Indiana State Department of Health says more than 100 cases of tick-borne disease have been reported so far in 2018, including one death due to ehrlichiosis in an elderly patient.
Locally, Dearborn County Environmentalist Doug Baer says there have been several cases and potential cases of both Lyme disease and Rocky Mountain Spotted Fever in Dearborn County.
"Cases of tick-borne disease tend to peak in July," said Jennifer Brown, D.V.M., M.P.H., state public health veterinarian at the Indiana State Department of Health (ISDH). "You should take precautions to prevent tick bites whenever you spend time outdoors. Call your health care provider right away if you develop a flu-like illness or a rash during the summer months."
Symptoms of tick-borne disease can include a rash near the bite site and flu-like illness, including headache, muscle or joint pain and fever.
Prompt removal of ticks can help prevent disease transmission. To safely remove a tick, the state health department suggest using tweezers to grasp the tick close to the skin and then pull outward with a steady and even pressure. Removed ticks should discarded by submerging in alcohol, placing it in a sealed bag or flushing it down the toilet.
Hoosiers are encouraged to follow the following tips to reduce the risk of tick bites:
Wearing a long-sleeved shirt and light-colored pants, with the shirt tucked in at the waist and the pants tucked into socks, if they will be in grassy or wooded areas.
Treating clothing and outdoor gear with 0.5% permethrin, an insect repellent commonly used for this purpose. Note that permethrin should NOT be used on bare skin.
Using EPA-registered insect repellents with active ingredients such as DEET, picaridin, IR3535, oil of lemon eucalyptus (OLE), para-menthane-diol (PMD) or 2-undecanone.
Treating pets for ticks.