Whiskey fungus is likely to be a topic once again at Sunman Town Council's meeting.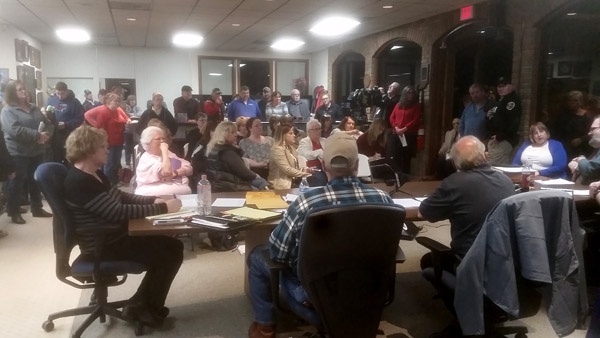 Citizens packed the Sunman Town Hall to ask the three-member town council about a tax abatement for MGPI of Indiana on Thursday, February 22. Photo by Mike Perleberg, Eagle Country 99.3.
(Sunman, Ind.) - Sunman Town Council's meeting Thursday night has been moved to a larger venue as citizens continue to fight the fungus.
Citizens in and near the town are opposing MGPI of Indiana's plan to turn the former Deufol plant into a whiskey barrel aging house. The company produces spirits at the 172-year-old distillery in Lawrenceburg and Greendale, but is in need of warehouse space to store barrels.
The concerned Sunman area residents, however, worry that ethanol which would evaporate from up to 320,000 barrels there would lead to an unsightly black fungus growing on their homes and crops. The fungus Baudoinia compniacensis, which feeds off the ethanol, has been found near distilleries and barrel houses around the world – including Lawrenceburg and Greendale.
In February, Sunman Town Council held a packed meeting in the town hall, which can hold a maximum of 64 people. Some who came to the meeting to share their concerns were turned away. Town council members said they could not stop the company from purchasing the sprawling facility on the south side of town, but they did approve last year a tax abatement on new equipment at the facility.
Thursday evening's, March 21, town council meeting will begin at 6:30 p.m. at the Sunman Elementary School cafeteria. The venue will be able to hold a much larger crowd.
Close to 100 people came to Milan High School on February 28 to tell the Indiana Department of Environmental Management about their opposition to the MGPI barrel house operation in Sunman.
IDEM closed a public commenting period on the air permit MGPI is requesting on March 4, but the agency has yet to issue a decision on the permit. Whether the permit is issued may determine whether the company can establish a barrel house in Sunman.
RELATED STORIES:
IDEM Meeting Doesn't Leave Much Doubt About Likelihood Of Sunman Whiskey Barrel House Permit
Ripley County Commissioners Drafting Ordinance To Combat Whiskey Fungus
Sunman Citizens Display Barrel House Opposition To Defensive Town Council
IDEM Grants Public Meeting On Sunman Whiskey Barrel House Operation
Citizens Want Public Hearing On Whiskey Barrel Storage In Sunman