The Wall That Heals will be up for viewing June 11 - 14.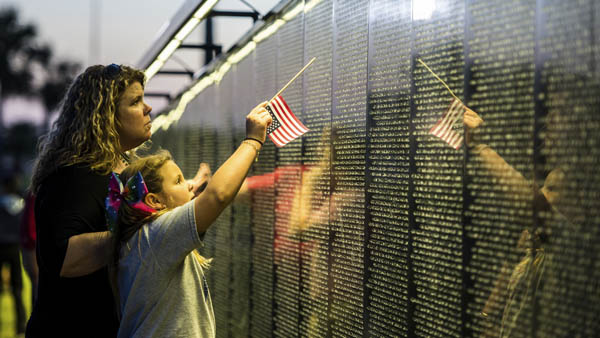 (Harrison, Oh.) - The Wall That Heals, a three-quarter scale replica of the Vietnam Veterans Memorial in Washington, D.C., will be in Harrison for public viewing, 24 hours a day from June 11 to June 14. The Wall That Heals will be located that week at the Harrison VFW Post 7570, 9160, Lawrenceburg Rd. The VFW and City of Harrison are working together on this project, and will be joined by many other service and social club volunteers to install the display on June 9, man the site continually, and disassemble the display on June 14. The display will be lit for convenient overnight viewing, in addition to daytime visitation hours.
The trailer that transports the exhibit opens up to become a mobile Education Center that displays items representative of those left at The Wall in Washington, D.C. Digital displays include photos of local service members whose names are on The Wall and local veterans honored through our In Memory program. The display is free to visit at your leisure while in Harrison to honor the more than 58,000 service members who made the ultimate sacrifice during the Vietnam War. Visitors can also see a timeline of "The War and The Wall," and learn about the legacy of the Vietnam Veterans Memorial. More information about the display may be seen at the organization's website: https://www.vvmf.org/The-Wall-That-Heals/
The City and VFW are currently in the midst of raising $10,000 necessary to host The Wall That Heals in our community. If you are interesting in donating, please contact Shannon David Hamons at the City of Harrison by calling 513-202-8492, or email him at shamons@harrisonohio.gov for more information. If you would like to volunteer to install, be a site host, or disassemble the display, please contact VFW member Bill Floyd at 513-293-4508 or redmandiv3@netscape.com. Look for more information in coming weeks about the event and opening and closing ceremonies.