Congratulations to Chloe Stewart!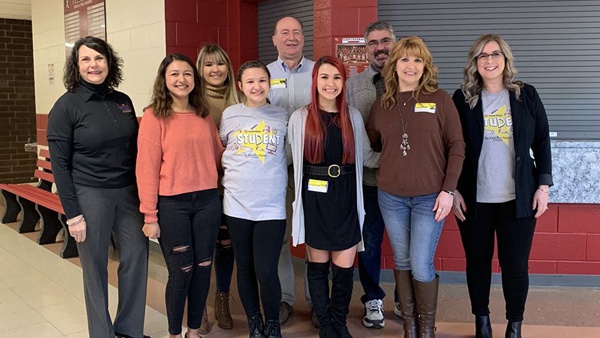 (Sunman, Ind.) - Gold Star Chili had a special surprise for a special Sunman-Dearborn Middle School student yesterday morning.
13-year-old Chloe Stewart was selected as the first recipient of Gold Star Chili's 'Gold Star Student Award.'
Chloe's mother, Jennifer, nominated her daughter for her many efforts of not only being a 'gold star' student, but being an all around 'gold star' person.
Throughout Jennifer's nomination, she praises Chloe for her years of service to the community while being active in many school extracurricular activities.
"Chloe volunteers feeding the homeless every year end on her own, collects hats, gloves, and blankets for the homeless in Cincinnati - has for 4 years! She always stands up for what's right and helps the underdog! She'd in FCCLA, Drama Club, National Jr. Honor Society, Academic Team, Show Choir, Cheers, and plays softball all while maintaining a high GPA," reads the nomination.
Her mother goes on to say that she cannot wait to see what the future holds for Chloe.
"She has such big dreams and aspirations and I admire her. I am so blessed to be able to call her my daughter - this girl is going to do great things!"
This contest ran from January 7 through February 11, during which the community was welcome to nominate tri-state students who demonstrate exceptional qualities.
On February 12, a Judging Panel sifted through nominations looking for a nominee who meets the criteria of:
Strong work ethic
Desire to learn
Pushing through challenges
Positive Attitude
Active in various capacities with their schools
Supports other students to do well
Advocacy in their community
Chloe now will receive a walk-on role in The Children's Theatre of Cincinnati's production of "Annie Junior" at the Taft Theatre in Cincinnati on Friday, March 6.
Gold Star Chili partnered with The Children's Theatre of Cincinnati to present this award.
Congratulations to Chloe on receiving this award. Eagle Country 99.3 appreciates everything you do in bettering our community.
We're at Sunman-Dearborn Schools -Middle School to present our Gold Star Student Award this morning! Help us in celebrating this outstanding student!

Posted by Gold Star on Wednesday, February 19, 2020