The new law allows more communities to install Safe Haven Baby Boxes.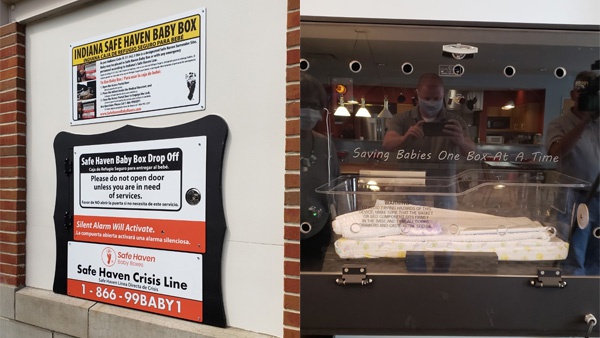 (Indianapolis, Ind.) - More Hoosier communities will be able to install devices to save vulnerable infants thanks to a new law authored by State Rep. Randy Frye (R-Greensburg).
Indiana's Safe Haven Law allows a parent to surrender a newborn fewer than 30 days old to any hospital emergency room, fire station, police station or Safe Haven Baby Box without fear of prosecution. Baby boxes are temperature-controlled with an alarm system that alerts first responders when an infant is placed inside. With this new law, communities can install a baby box at a volunteer fire station or a facility staffed 24/7 by professional emergency medical service providers.
"Now more communities, especially our more rural ones, will be able to install their own Safe Haven Baby Boxes," Frye said. "These devices have proven to work and save lives, and now we are a step closer to bringing them to every county in Indiana."
Frye said many communities in Indiana are served primarily, or entirely, by volunteer fire stations, and some communities do not have hospitals. Under previous law, baby boxes could only be installed at either a hospital or a full-time fire station.
Indiana currently has 57 Safe Haven Baby Boxes located around the state, which helped save the lives of five babies in 2020. Just last week, a newborn was safely surrendered at the Clarksville Fire Department's baby box.
For a box to be installed at a volunteer fire station, it must be located within one mile of a hospital, police station or emergency medical service station and meet the minimum response time established by the county, which is usually four minutes. The baby box will also need to have an independent video surveillance system allowing at least two members of a fire department to monitor the inside of the device at all times.
With the governor's signature, House Enrolled Act 1032 is effective immediately. To learn more, visit iga.in.gov.