Much like the State of the State, Indiana's Chief Justice gave a State of the Judiciary on Wednesday.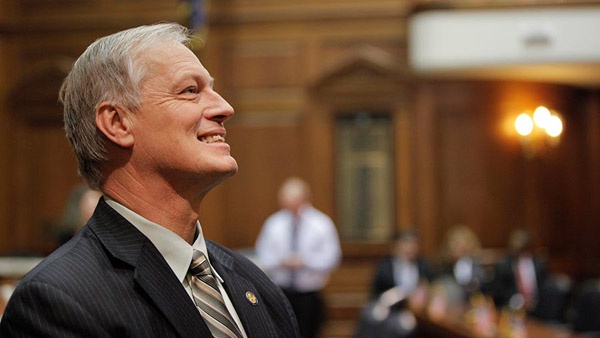 (Indianapolis, Ind.) – State Rep. Randy Frye (R-Greensburg) was recognized during the annual State of the Judiciary this week.
The State of the Judiciary is similar to a State of the Union or a State of the State Address.
Each year, the Chief Justice is required to provide lawmakers with an update on the "condition of the courts". The 2020 address focused on Indiana's judicial branch connecting, convening and collaborating with communities.
Indiana Chief Justice Loretta H. Rush addressed Governor Holcomb and a joint session of the Indiana General Assembly on Wednesday.
Some of the topics of the speech included how the state can address the addiction epidemic, pretrial and criminal justice reform and supporting families.
Rush also touted a Jail Overcrowding Task Force that is headed up by State Rep. Randy Frye.
"Frye called the task force a historic event, which brought an eye-opening overview of this complex issue," said Rush. "It illustrates that by working together we can transform the lives of incarcerated Hoosiers. Representative Frye, I agree with you."
According to Frye, costs of jail overcrowding are draining taxpayer dollars – money that could be put towards our schools and roads.
"Recommendations from the task force to reduce jail population and recidivism include implementing more court diversion programs, where offenders receive treatment and rehabilitation to remedy behavior to avoid jail time, and Recovery Works, which specializes in mental health treatment and recovery services for incarcerated Hoosiers," said Frye. "We also want to start more pre-trial release programs, where individuals waiting for a court appearance are screened and if are a low risk, do not need to stay in jail. These people can go back to their homes and jobs because they will show up in court and don't jeopardize public safety. This will save us money by not keeping them in jail."
The task force is expected to continue meeting and gathering more data to better understand the issue.
To read the task force's entire report, visit www.in.gov/judiciary.
RELATED STORIES: