Governor Eric Holcomb indicates ongoing savings could be used to fund meaningful increases in teacher compensation.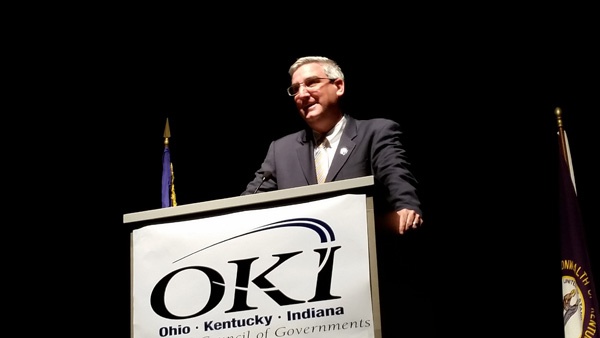 Indiana Governor Eric Holcomb. File photo.
(Indianapolis, Ind.) - Indiana's just-ended 2018-2019 fiscal year saw the state's reserves reach $2.3 billion.
That's about 14 percent of expenditures, according to the year-end report delivered by the Office of Management and Budget and Auditor of State Tera Klutz on Thursday.
"By continuing to operate our state in a fiscally responsible manner, Indiana has maintained reasonable reserves while addressing some of our most important challenges. As the state's Chief Financial Officer, I am pleased that Indiana has maintained its AAA credit rating and remains a fiscal leader nationally," said Klutz.
"However, we cannot get comfortable relying on our reserves to bail us out as there are still many challenges to confront. We must continue to find the most effective and efficient ways to offer needed services for all Hoosiers, especially those less fortunate."
With the big cash reserves, Governor Eric Holcomb has recommended that state lawmakers act in the 2020 legislative session to use $300 million of the reserves to pay for several one-time capital projects. Holcomb says that will still leave the state's reserves at $2 billion while leading to taxpayer savings of $100 million by paying cash for projects instead of borrowing with interest.
"We will work over the next six months to demonstrate how the ongoing savings can be best used for tackling our priorities in the next budget, such as providing meaningful increases in teacher compensation so Indiana is competitive with neighboring Midwestern states," said Holcomb, thanking state agency leaders and employees, legislative leadership and Auditor Klutz for helping maintain the state's position as "the fiscal envy of the nation."
The proposed cash-paid projects include finishing the $78 million free-flow project – eliminating stop lights and railroad crossings – of U.S. 31 from Indianapolis to South Bend. Others are:
$50 million for the swine barn at the Indiana State Fairgrounds
$73 million for the Purdue College of Veterinary Medicine teaching hospital
$60 million for the Ball State University STEM and Health Professions facilities
$30 million for the Ivy Tech Columbus main building replacement
Democrats including State Senator Karen Tallian (D-Portage) say those projects were already appropriated in the new state budget.
"Raising teacher pay, addressing beach erosion issues, funding the mortgage foreclosure program – these are all things that we could have done with our $2.3 billion surplus," Tallian said.
"Instead of paying for those things in the first place, the governor chose to store money away and deprive our state of much needed improvements. Now he's using the excess revenue to fund projects that have already been funded! I wish I could say I'm surprised, but I'm not."
RELATED STORIES: